Newsletter
Woodside Petroleum: doubling to be dirtier
• Santos' Dorado has a problem • Buru pivots •
Good morning,
Well, BHP and Woodside Petroleum was the big event of last week.
There was a lot to digest, so I waited for the smoke to clear before getting my thoughts together.
This morning's story is about a desperate company with few options serving up someone else's leftovers and telling its shareholders they have a gourmet feast.
READ: Woodside Petroleum: doubling for a duo of dirty decades
Apart from the big issues in the story, whatever happened to BHP Petroleum boss Geraldine Slattery?
She was long thought of as one of the front runners to lead Woodside, only for Meg O'Neill to be revealed as permanent boss a few minutes before the big deal was announced on Tuesday afternoon.
Given that BHP the day before said "no agreement has been reached" on the deal, was the permanent chief executive the sticking point, with both sides backing their candidate? I don't know, but that scenario does explain the weird timing.
O'Neill was peppered with questions about the decommissioning costs that come with BHP's half-share of ExxonMobil's Bass Strait operation.
MST Marque analyst Mark Samter was told, "So look Mark, we've had very extensive due diligence, we do decommissioning ourselves so we understand what that sort of work should cost."
For Woodside to say 'trust us' on decommissioning because of its track record has to win the corporate lack of self-awareness award for 2021.
That track record is:
Running down maintenance on the Northern Endeavour because it was to be decommissioned, then flipping it to a tiny inexperienced one-man company that, surprise-surprise, later failed.
Proposing to leave 400 tonnes of plastic on the seabed without any science to show it was safe for the environment to do so.
Maintaining the riser turret mooring of the Nganhurra FPSO so poorly that it can no longer be towed ashore as planned, and regulator NOPSEMA is now considering legal action.
Only moving to decommission the 18 wells that supplied the Nganhurra after being ordered to by NOPSEMA.
Courtesy of Boiling Cold is a handy graphic to allow Woodside Petroleum management to be better informed about perceptions of their company on this issue: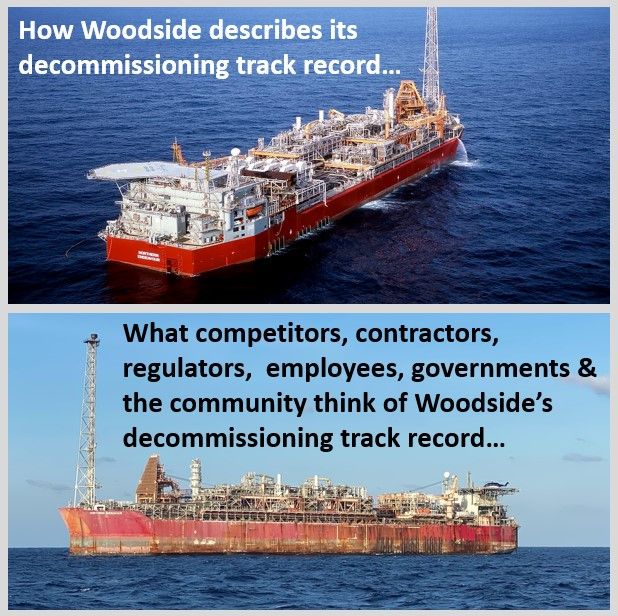 Senator Pauline Hanson wants eight dates changed from 1 January 2021 to 1 January 2015 in the new decommissioning regime before Parliament. What would this do? Backdate the start of trailing liabilities and put Woodside Petroleum on the hook for the clean-up of the Northern Endeavour.
The outlook for Australian jobs from the Woodside-BHP combination is not good.
Of course, there are always the promised "synergies" from a merger, in this case, $US400 million a year from reduced exploration, dumping less attractive opportunities and "corporate".
The actions to achieve corporate savings were appropriately messaged in corporate speak. Woodside will "enhance functional workflows" and "align systems and processes" as well as "integrate and optimise offices." So, lots of job cuts then.
However, there is a bright side if you are American. O'Neill said, "we will also consider whether it makes sense to have other aspects of the combined portfolio managed by our team in Houston."
So, a massive cut in total jobs, and some of those remaining will be offshored.
O'Neill's new pay packet looks good to you and me but compares poorly to bosses of similar-sized oil and gas companies, according to an excellent analysis in Energy News Bulletin. So is it one rule for the boys and another for a girl?
Also, while chief executive pay at Woodside Petroleum has been slashed, I must have missed the announcement of similar treatment for the board.
You know, that group of highly paid part-timers responsible for strategy. The strategy that left the company with just one growth option, an option totally controlled by BHP, and now they are buying the assets BHP could not offload to anyone else, so BHP will take their foot off the Scarborough hose.
Given that BHP is determining Woodside strategy, shouldn't the fees go to BHP's directors?
And one last point on Woodside.
When I wrote for The West Australian, I had a running argument with my editor Peter Williams about what to call the company. The official line was Woodside Petroleum, as its stock ticker is WPL. I thought this was archaic as it had rebadged itself as Woodside Energy and everyone just called it Woodside.
Peter, you were right; it is a petroleum company and intends to stay that way.
---
Now onto the other grow to greatness Australian oiler, Santos.
On Friday, NOPSEMA released Santos' plans for its Dorado oil project and inspired my poor attempt at a tabloid headline:
READ: Santos' oil Dorado is a lode of Scope 3 emissions
The world is changing fast. A project that would have attracted just a bit of angst from environmentalists a few years ago is likely to poked, prodded, and attacked by an army of lawyers and investors. That's what happens when you plan to sell enough oil to have the same climate warming effect as running the Muja coal-fired-power station for 46 years.
The Sharma decision in NSW exposed all environmental approvals in Australia to challenge if the decision-maker, in this case NOPSEMA, does not give due weight to climate impacts.
Also, International Energy Agency scenarios of long-term fossil fuel use relied upon in previous approvals have been superseded by the Agency's call for no new oil, gas or coal projects if global warming is to be contained.
Dorado could have an arduous approvals process.
This morning Santos awarded the FEED contract for the FPSO to Norwegian firm Altera Infrastructure.
---
Energy Policy WA launched an Electric Vehicle Action Plan on how best to integrate our future cars with the power system, so they help, not hinder.
The WA Government announced it would install 90 fast-charging stations for EV's at 45 locations across WA as part of its $21 million EV fund.
ATCO received $2 million from the McGowan Government to blend green hydrogen into the gas distribution system. The Canadian giant will kick in $600,000.
The Premiers Science Awards were again tarnished by sponsorship from Woodside Petroleum, ExxonMobil, Shell and Chevron. It would not be possible to develop a more effective way to turn young people off a career in science than to brand it with fossil fuel logos.
In fairness to ExxonMobil, they were leaders in climate science in the early 1980s, well before it was a public issue. They then decided to hide it and ignore it.
Labor's Federal shadow climate change spokesperson Chris Bowen has given some details on what policies Labor will take to next year's election: a commitment to net-zero by 2050, increased cuts by 2030, a focus on jobs and looking after regional Australia in the transition.
Predictably The Australian headlined this innocuous listing of the obvious as "Labor sets up climate change war front."
The Sun Cable project to send solar energy from the NT to Singapore wants to be "significantly bigger" than the currently planned 14 gigawatts.
It does seem a bit ambitious at such an early stage. I hope it is not a case of getting bigger to achieve economies of scale to make the returns acceptable. Chevron tried that with Gorgon as it evolved from one LNG train, to two and finally to three. Then for the final years of construction, there was constant talk of the "diseconomies of scale" as the beast became unmanageable.
The Ammonia Energy Association is having its annual conference in Perth Wednesday to Friday this week.
Wood Mackenzie optimistically called for oil and gas companies to plough their surging revenues from higher oil prices into decarbonisation efforts. Some will, but I expect most will ignore the inevitable reckoning and either take over other oilers or splurge on dividends.
South32 suffered a huge loss for the year, driven by a $US510 million write-down of the value of a NSW coal mine refused permission to expand and a $US159 million loss from the sale of its South African coal business.
The original owner of South32's coal assets, BHP, is having trouble with the coal mines it kept. The miner slashed the value of one mine from  $550 million to negative $275 million.
BHP has learnt its lesson to divest assets with troubled futures before it is too late.
Canning Basin pivots
The last newsletter cast doubt on the seriousness of new business ventures proposed by Buru Energy that executive chair Eric Streitberg took good-natured umbrage to.
In fairness to Buru, their plans were the straw that broke the camel's back, as one "energy" company after another puts a picture of a wind turbine up on their website to pretend not to be a fossil-fuel business.
Interestingly, gas is not a big part of Buru's immediate plans. Streitberg told Boiling Cold Buru had pivoted to oil as the scale, time, and market access required for gas made it difficult.
If the Canning Basin's longest player has doubts, what does that say about the gas plans of the newbies like Black Mountain and Theia Energy?
Buru wants to use oil revenue to set up its post hydrocarbons future.
Streitberg said green hydrogen was excluded as Buru had no competitive advantage in that space. That sound business logic by itself puts Buru ahead of a fair few dodgy ASX-listed spruikers.
Inspired by a hydrogen field found by accident in Mali and now producing, Buru is reassessing its Canning Basin data for both hydrogen and helium. Buru's past drilling encountered lead and zinc deposits, although they were far too deep for mining. The hunt is now on for prospects near the surface. Finally, Buru is scouting Australia for reservoirs suitable for storing CO2.
It seems most fossil fuel outfits are looking for an exit, with Woodside Petroleum exceptional, but not in a good way.
Enjoy your week.
Cheers
Pete
---