APPEA 2021 Perth
Santos fails to back up Barossa emissions reduction claim
Santos says attacks on its heavily-polluting Barossa LNG project "should be taken with a grain of salt" but will not substantiate its own claims that emissions have reduced.
Santos has not provided any support for a claim by its chief executive Kevin Gallagher that its engineering has reduced the emissions of its Barossa LNG project by 25 per cent.
The claim came as Santos was again attacked for high emissions from its project as it attempts to close a long-standing deal to sell 12.5 per cent of the project to Japanese company JERA.
Santos' development of the CO2-rich Barossa gas field to supply gas to the Darwin LNG plant was last week savaged by mining billionaire and green hydrogen enthusiast Andrew Forrest.
"Santos is about to kick off one of the most polluting projects in the world. It needs to be called for what it is. It is an atrocious project, an atrocious project," Forrest said.
The attack came hours before Gallagher was due to speak at the annual conference of oil and gas lobby group APPEA in his role as president. When questioned about Forrest's comments at a press conference later that day, Gallagher said Santos was proud of its efforts on Barossa.
"The design changes that Santos drove on that project over the course of the time since we owned it and turned it around prior to FID resulted in a 25 per cent emissions reduction from that project versus what Conoco (did)," Gallagher said.
Boiling Cold asked Gallagher, who said Santos had included the numbers in submissions to governments, for more information to substantiate the claim.
Boiling Cold later made several requests to Santos for details of Barossa's emissions and what Santos did to reduce them. A Santos spokesperson yesterday said the company had nothing further to add at this stage.
Santos also made the 25 per cent emissions reduction claim in March after another attack on the environmental merits of its project.
The Institute for Energy Economics and Financial Analysis released a report claiming "the unprecedented scale of the Barossa emissions relative to the LNG production creates major risks for shareholders."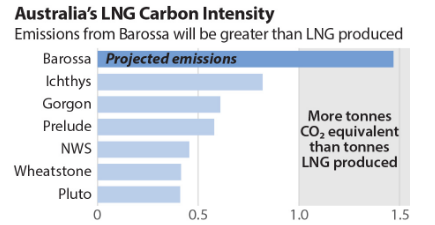 In response, Santos said the IEEFA report "should be taken with a grain of salt," and it had already reduced emissions by 25 per cent.
25 per cent emissions cut a tall order
ConocoPhillips, that operated the Barossa project until May 2020 when it sold out and Santos took over, detailed the project's emissions in an offshore project proposal submitted to regulator NOPSEMA in March 2018.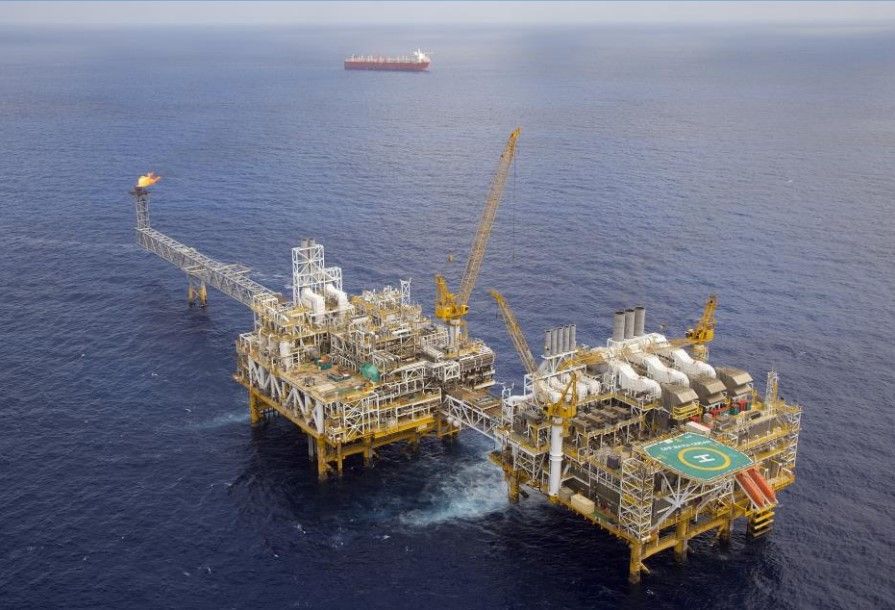 The Barossa gas field contains 16 to 20 per cent carbon dioxide. The US major planned to vent about 14 per cent from the offshore vessel and pipe the remaining two to six per cent to Darwin, where it would be released.
The US major predicted offshore emissions in millions of tonnes of CO2e a year to be:
reservoir CO2 vented offshore: 1.4 to 2.1 mtpa
CO2 from fuel burnt on the vessel: 0.7 to 1.7 mtpa
total offshore emissions: 2.1 to 3.8 mtpa
Design changes would have little effect on the average reservoir CO2, so the claimed 25 per cent reduction of 0.4 to 0.95 mtpa of CO2 would need to be achieved by more efficient equipment on the offshore processing vessel.
It would be extraordinary that an experienced operator like ConocoPhillips would produce a design so inefficient that Santos could halve combustion emissions three years later.
Partners pressured over emissions
In April 2020, Japanese gas buyer and power generator JERA signed a non-binding letter of intent to buy 12.5 per cent of the Barossa project from Santos. JERA already owns six per cent of the Darwin LNG plant that will process Barossa's gas.
Santos sanctioned the $US3.6 billion project in March without selling down to JERA. At the same time, three Australian environmental groups made a submission to the Japan Bank for International Cooperation, urging it to not support JERA's acquisition.
Without a sale to JERA, Santos will have a much higher financial burden as the Barossa project progresses.
The week before Forrest's outburst SK, a wast South Korean industrial conglomerate, came under fire from environmental groups for participating in the sanction of Barossa in March.
SK chair Chey Tae-won said in November 2020 that the group would make no new fossil fuel investments. SK argued that it had participated in Barossa since 2012, so it was not new investment.
"Our investment was made on the condition that LNG is developed in an eco-friendly, low-carbon way," SK's oil and gas subsidiary E&S told the FT.
The FT reported that SK E&S said carbon capture and storage would deal with nearly all of Barossa's carbon emissions.
The environmental groups' letter to Chey said, "any attempt to greenwash fossil fuel development with unverified plans for CCS lacking technological or economic feasibility is unacceptable."
Santos plans to sanction a CCS project at Moomba later this year that could store 1.7 million tonnes a year of CO2, much less than the total emissions from the Barossa offshore project and the Darwin LNG plant that will process the gas.
In May Santos joined with ENI to investigate CCS opportunities north of Darwin.

---
Main image: Santos chief executive Kevin Gallagher speaks to the APPEA Conference in Perth in June 2021. Source: APPEA
---