Newsletter
Will Woodside + a bit of BHP make Scarborough go?
• $2.5B Ichthys law suit • dodgy Woodside spin on The Terrace •
Good morning,
---
BloombergNEF released a report, New Energy Outlook 2021, with three scenarios for net-zero emissions by 2050 focussed on hydrogen, carbon capture and storage, and nuclear energy. The total capital expenditure required is estimated to range between $US92 trillion and $US173 trillion.
The higher number is more than 3000 Gorgons.
Also, this reminds me of something. Have you ever noticed how climate Neanderthals always call renewables spending a cost, but fossil fuel projects are an investment?
NOPSEMA, the offshore safety regulator, should have the power to personally pursue oil and gas bosses for breaches of regulations, according to a Federal Government review. Any measure that makes managers think twice before cost-cutting should be welcomed.
After years of heartbreak Shell's $US17 billion-plus Prelude floating LNG vessel has recently been shipping out product at close to nameplate capacity.
Inpex is suing Dutch coating giant AzkoNobel for $2.5 billion, claiming "misleading or deceptive" conduct in representing its product I228 was suitable for the "UV, salt spray and high humidity" at the Ichthys LNG plant near Darwin. Inpex said in court documents that the coating has been failing for six years and the damages were to cover ongoing remediation work and business interruption.
On a more upbeat note about the Ichthys plant, I stumbled across this video of how it all came together, which has great vision of the modules being put together.
Chevron Australia boss Mark Hatfield said the Gorgon operator would "make good" its commitments to inject CO2 under Barrow Island. We will have to wait to know what that means. Hatfield said he couldn't see a time when oil and gas was not part of the energy mix. Better ramp up CCS big time then.
Quebec has a different view and has rejected plans for an LNG plant on its Atlantic coast fed with gas piped in from Alberta. The province's environment minister said the promoter had failed to demonstrate the plant would lower global carbon emissions.
Boiling Cold's inaugural award for misleading bus stop advertising goes to Woodside for this zero content maximum spin effort on St Georges Terrace.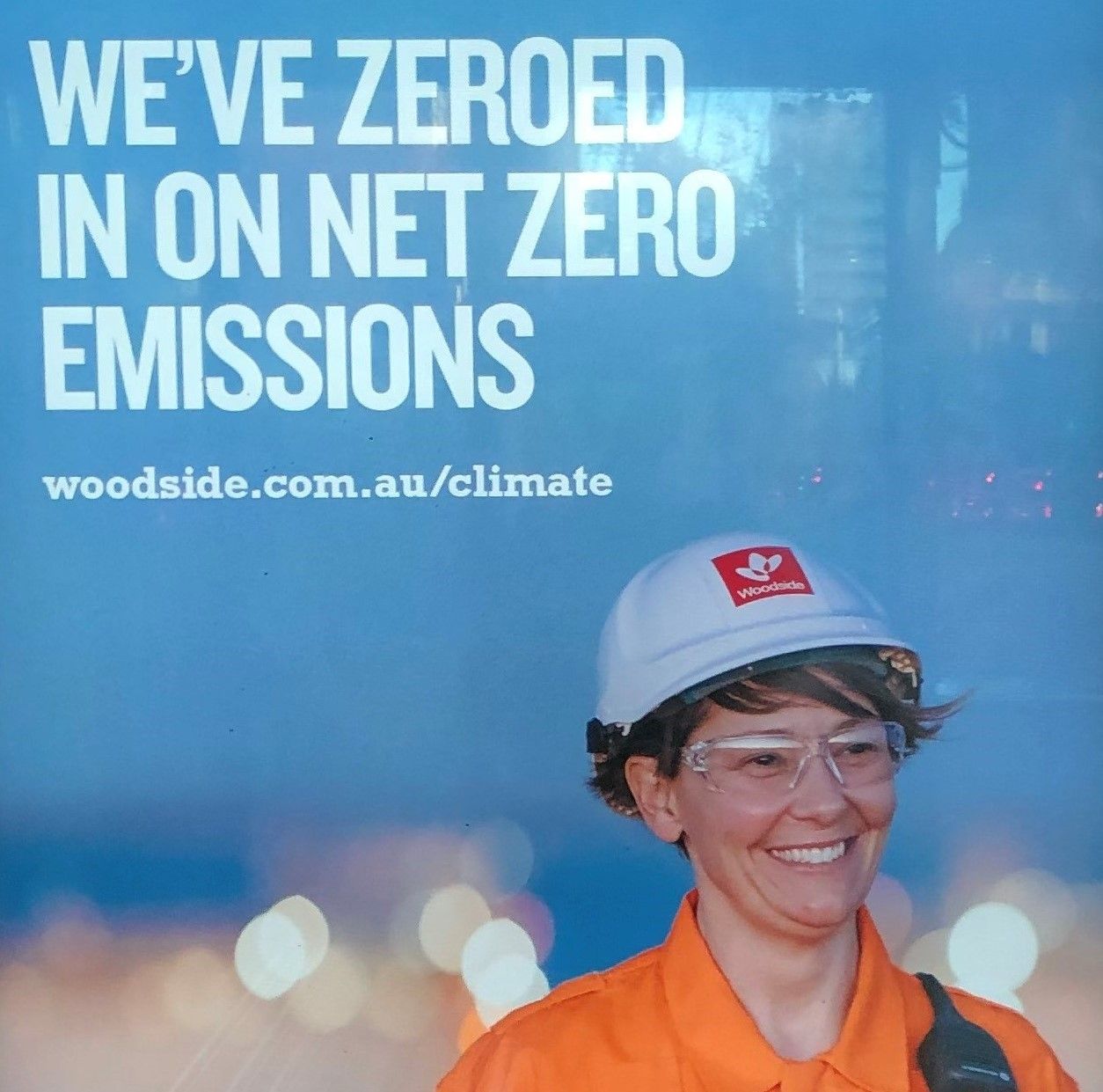 Boiling Cold analysis of Woodside's emissions reduction plan for the Pluto LNG plant in red below does not quite match the bus stop hype. Apologies to the lady pictured, who I am sure is not responsible for this tripe.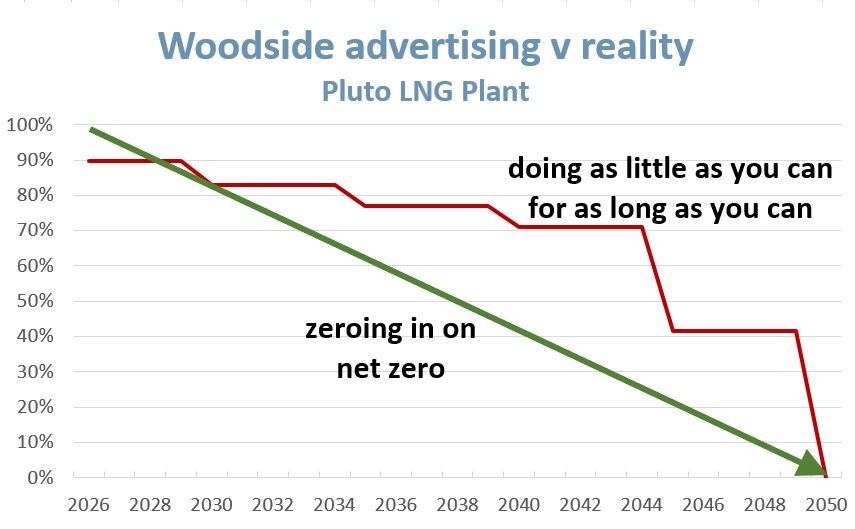 Note how the Woodside plan leaves 70 per cent of emissions reduction for the last five years.
Woodside has agreed with four Japanese companies to research a clean ammonia supply chain from Australia to Japan. The clean ammonia definition includes green ammonia from renewable energy and blue ammonia, which adds carbon capture and storage to the current gas-fed process.
In a development that should please iron ore and green energy mogul Andrew Forrest US-based Form Energy has revealed plans for a long duration iron-air battery designed to discharge more than 100 hours. Form's co-founder and chief executive Mateo Jaramillo launched the company in 2017 after building Tesla's battery business. Jaramillo said the product would compete with gas plants, not lithium batteries.
Tesla has signed up BHP to supply nickel from WA. BHP Minerals Australia President Edgar Basto said BHP produced some of the lowest carbon intensity nickel, and "we are on the pathway to net-zero at our operations." The only way the miner can do that is with investment in or PPA's for renewable energy. It will be interesting to see what happens.
WA has joined the Smart Energy Council's Zero Carbon Certification Scheme for green hydrogen and ammonia. Yara and ENGIE's green ammonia plans for the Burrup Peninsula is the second project to seek certification under the scheme.
Meanwhile, Yara's Pilbara plant has now exported 10 million tonnes of old-fashioned ammonia when its 444th cargo since 2006 left on Saturday.
The WA Government will spend $120 million to speed up approvals for projects with 150 extra workers for various agencies. However, the Conservation Council of WA called for the additional resources to protect the environment better, not just deliver a faster process.
Stephen Edwell, who recently finished up as chair of the Energy Transformation Taskforce, is the new chair of the Economic Regulation Authority that regulates the gas, electricity, rail and water industries in WA.
Permanent contractors at Muja are now getting the same attention as Synergy staff in planning for the transition of the coal-fired power station to half its current capacity.
And not unrelated, renewable energy supplied almost a third of the power in WA's South West over the past 12 months.
The Energy in WA Conference starts Wednesday. I'll be speaking on Thursday morning, but don't let that put you off.
Enjoy your week.
Cheers
Pete