Newsletter
Regulator blasts ExxonMobil on safety and decommissioning
• dirty deeds at Gorgon • Alcoa clean tech •
Good afternoon,
There is one unmistakable conclusion from this week's stories: the energy transition is on.
---
Big gas and the 1.5℃ squeeze
Wood Mackenzie says its estimates of the value of global upstream oil and gas assets vary by $US14 trillion (yes, it is a T not a B) depending on whether things continue as they are and we toast our world, or we take action to limit warming to 2℃.
Remember this is for 2℃, not the 1.5℃ the IEA provided a path to this week. Oil prices would fall rapidly late this decade in a two-degree world, but the gas price would be more resilient.
Sadly $US14 trillion can buy a lot of lobbying and greenwashing to delay change.
Limiting warming to 1.5℃ is extremely challenging, according to Wood Mackenzie's head of markets & transitions Jonathan Sultoon.
"However, it is achievable – if the necessary action starts today and the world collaborates like never before," Sultoon said.
Meanwhile, chief executive of oil and gas lobbyist APPEA Andrew McConville warned to take some of the IEA's 1.5℃ "with a grain of salt as it is only one possible scenario."
I repeat, $US14 trillion can buy a lot of lobbying to delay change.
"Natural gas is a pathway to a large-scale hydrogen industry," McConville said.
Oddly, Australia's largest gas company Woodside this week teamed up with Japan's IHI and Marubeni to study green ammonia production in Tasmania with hydroelectricity. Not a methane molecule in sight.
Woodside also officially dumped plans to develop its 50%-owned Kitimat LNG project on the west coast of Canada. The decision was near-inevitable after operator Chevron in March said it would no longer fund the project.
That leaves Browse and Sunrise on the list of LNG projects for Woodside to officially kill.
Shell chief executive Ben van Beurden said any plan to develop Browse, that it owns 27% of, would be tested against its long-term decarbonisation targets.
Browse is both expensive and carbon-intensive, so van Beurden's comment was presumably a polite Dutch way of saying Browse gas has got Buckley's chance of going to the Burrup Peninsula.
Woodside must be hoping Inpex wants the gas for its Ichthys project as a last desperate attempt to get some return from the billions of dollars spent in multiple attempts to develop the remote resource.
So distracted is the Australian oil and gas industry by the threat of the IEA and dreams of hydrogen, the National Offshore Petroleum Titles Administrator has had to remind them that bids for the next round of offshore exploration acreage close June 1.
Maybe, behind their PR, the big players now realise there is little point exploring for a resource that will take a decade or so to develop for a market that might then not be there.
Bloomberg NEF predicts Australian LNG exports will slip into terminal decline before 2030 as Qatar goes big, cheap and early to dominate the market.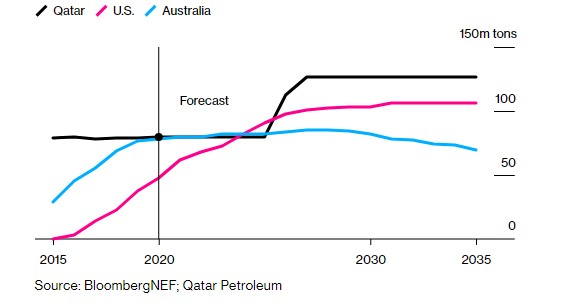 South West power happenings
WA's Energy Transformation Taskforce has wrapped up after two years. Energy Minister Bill Johnston congratulated taskforce chair Stephen Edwell whose team delivered the Distributed Energy Resources Roadmap, redesigned the Wholesale Electricity Market and developed the Whole of System Plan.
Johnston intriguingly described the WOSP as providing "different scenarios of how WA's main electricity grid might look in the next 20 years and the 'no regrets' investments we can make now."
I suggest minimal emissions reductions under most scenarios is regrettable already.
The task of shaping WA's energy future now falls to Energy Policy WA, headed by the coordinator of energy Kate Ryan.
"I'm confident Energy Policy WA is now well-prepared to lead the next stage of the energy transformation and focus on integrating new technology into the power system," Johnston said.
The energy minister officially opened WA's biggest wind farm this week: Alinta's $450 million 214 MW Yandin wind farm near Dandaragan. Time will tell if Johnson maintains his opposition to transmission upgrades to support for more Mid-West wind generation.
The Distributed Energy Resources Roadmap is strongly focused on ensuring the South West grid does not crack under the weight of soaring amounts of rooftop solar.
Western Power rolled out one aspect of the plan this week, requiring all new solar inverters to have a "voltage disturbance ride-through capability" that helps manage low generation loads caused by excess solar.
Fellow State-owned utility Synergy is involved in a net-zero emissions demonstration housing design. Synergy general manager of customer experience Colin Smith said efficiency increases in recent years meant that electrical appliances are more affordable to run than gas in many cases.
This is especially true if a house gets off gas completely and skips the connection fee.
Whether electricity is less carbon-intensive depends on how much coal and gas is used to generate it, which brings us right back to Bill Johnston and his Whole of System Plan.
..and random other stuff
Perth Basin gas operator Mitsui bought Outback Carbon, a carbon farming project developer. Mitsui said it would consider scaling up the business and diversifying into new carbon farming methods and carbon capture and storage.
Mitsui did not say if the buy was connected to the need to offset 180,000 tonnes of CO2 a year from its 50 per cent owned Waitsia gas project.
Strike Energy has appointed Crispin Collier as its chief development officer to take charge of its urea and geothermal ambitions.
Over east, the Federal Government has backed a huge and unnecessary gas plant with $600 million. Probably paywalled, but Crikey has done a great job pointing out that from the land purchased to where the gas will come from mates of the Federal Government will benefit. Just sickening.
As Perth's Bill Hare writes: "The world is moving away from fossil fuels, while in Australia, it's all systems go for coal and gas."
Enjoy your weekend.
Cheers
Pete