=== from the archive ===
Inpex likely to never pay Australia for gas for Ichthys LNG
The Inpex-led Ichthys LNG project will export $195 billion of LNG, LPG and condensate over 30 years but it will not pay Australia anything for the gas it extracts.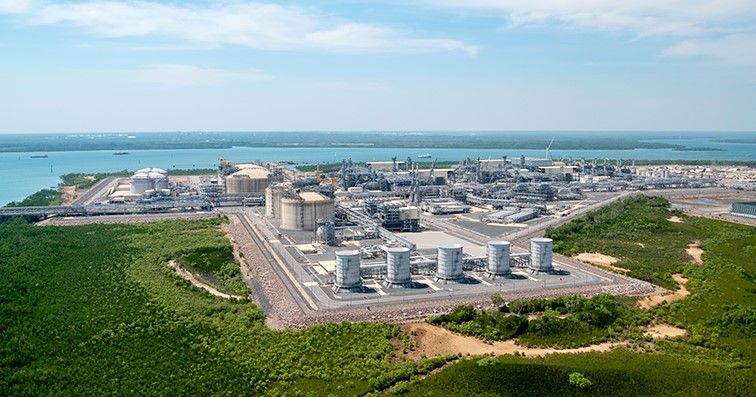 This story was originally published in The West Australian on 15 July 2017 with the headline "Inpex will pay nothing to extract oil and gas." © Peter Milne.
The Inpex-led Ichthys LNG project will export $195 billion of LNG, LPG and condensate from Darwin over the next three decades but will not pay Canberra anything for the gas it extracts from its field 450km north of Broome.
The Ichthys LNG project started construction in 2012 and next year is expected to begin shipping condensate from its offshore facilities and LNG and LPG from its Darwin plant.
Inpex yesterday released a report by ACIL Allen on the economic benefit to Australia from its $US37 billion ($47.7 billion) investment.
Inpex president director Australia Seiya Ito said Ichthys, funded by a US$20 billion project finance deal, was the biggest overseas investment ever by a Japanese company.
"My nickname is King of Debt," he said.
Despite the LNG plant itself being located in Darwin, WA is predicted to benefit from the project.
Mr Ito said Perth, with 1500 workers, houses the biggest Inpex office in the world, surpassing even Tokyo.
The report forecast the project would create an average of 1100 equivalent full-time jobs a year in WA over the next 40 years, based in Perth, Broome and offshore.
ACIL Allen executive director WA and NT Mr John Nicolaou said that even under the highest oil price considered, his company forecast that the Ichthys project would pay no Petroleum Resource Rent Tax.
However, the report forecast the project would generate $73 billion of taxation to various Australian governments.
Minister for Finance Senator Mathias Cormann, said the Australian Government was very keen for Inpex and the Ichthys project to be as successful and profitable as possible.
"PRRT arrangements remain the preferred way for the Australian Government to achieve a fair return to the community from LNG production and exports without discouraging investment," Cormann said.
Senator Cormann ruled out any significant changes to the PRRT applied to existing projects or those "already underway or in the pipeline".
He said that the Government was very aware of sovereign risk concerns from a sector exposed to highly volatile commodity prices and required capital intensive investment.
An Inpex spokeswoman said PRRT was one of many taxes Inpex forecast it would pay in Australia, in addition to significant company and payroll tax payments to State, Territory and Federal Governments.
The Treasurer's office said the Government supported the PRRT but there were some elements of the PRRT that posed revenue risks.
The Government is seeking stakeholder and industry feedback on potential longer-term reforms to the PRRT.
---
Main image: Ichthys LNG plant in Darwin. Source: Inpex Australia Pty Ltd.
---