Domestic Gas
Chevron and Santos battle Kerry Stokes' Mardie Salt project
Chevron, Santos and Kerry Stokes' BCI Minerals are battling in court over responsibility for gas pipelines supplying 40 per cent of the WA market that traverse the $780 million Mardie salt project.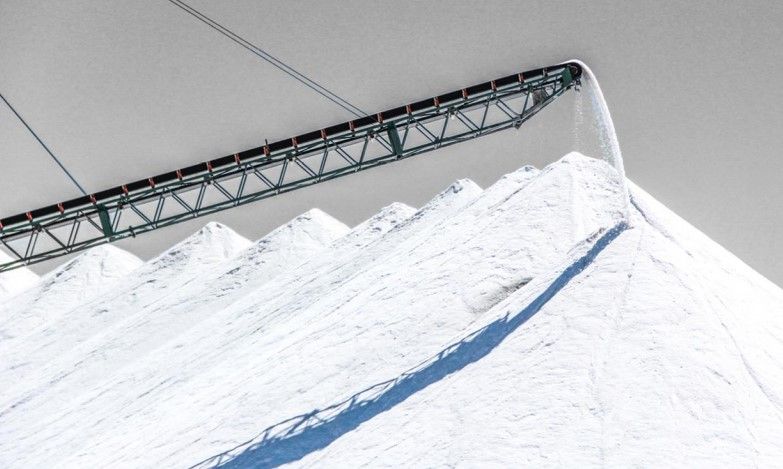 WA's two largest gas suppliers are taking legal action against the Mardie salt project backed by media mogul Kerry Stokes that will traverse pipelines supplying about 40 per cent of WA's gas.
The disagreements over access to land are unresolved just weeks before BCI Minerals plans to start early work on its Mardie Project.
In October companies related to Chevron's Gorgon LNG project and Santos' Varanus Island facility lodged objections in the Perth Warden's Court against five tenements for BCI Minerals' Mardie Project. The action follows other objections lodged over the past 12 months.
ASX-listed BCI Minerals plans to spend $779 million building the world's third-largest solar salt project on a 30km long tract of land half-way between Onslow and Karratha.
Powerful media and mining equipment mogul Kerry Stokes owns 40 per cent of BCI Minerals. The stake is currently worth about $60 million.
A pipeline from Chevron's Gorgon project on Barrow Island and two pipelines from Santos' Varanus Island facility travel from the beach to the Dampier to Perth gas pipeline across land destined for Mardie Salt.
In October these pipelines supplied 39 per cent of the WA gas market, according to the WA Gas Bulletin Board.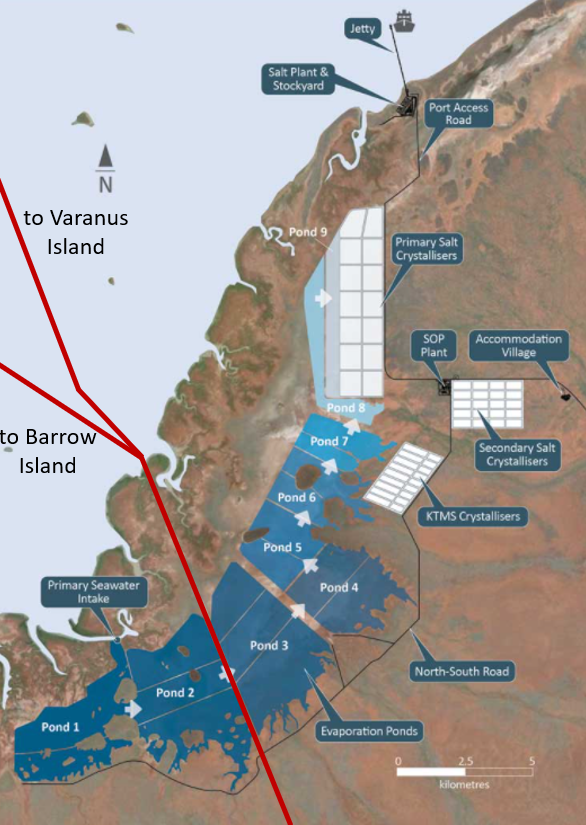 BCI started meeting separately with Chevron and Santos about 18 months ago to discuss "operability of proposal and integrity of the gas pipeline," according to the Mardie environmental review document lodged with the WA Environmental Protection Authority.
Issues raised included the design of crossings over the pipelines and BCI's access to the gas pipeline corridor for exploration, construction of a trial pond, full construction, and operations.
A lot at stake in delayed agreements
BCI agreed with the gas companies to "commence negotiation of an access agreement to ensure interest of both businesses are protected."
Offshore oil and gas companies commonly execute a legal agreement before one company lays a pipeline over the other company's pipeline.
These agreements cover the design of the crossing and the construction method to ensure the original pipeline is safe. Liability if something goes wrong is also agreed, with most of the burden usually falling on the company laying the second pipeline.
A similar agreement, in this case, could expose BCI Minerals to not only the cost of fixing a damaged pipeline but loss of sales revenue to Santos or Chevron and loss of production by the gas consumer.
Boiling Cold understands that at least one gas company does not believe BCI is putting sufficient effort into finalising the agreements.
BCI plans to start construction of a trial pond near the pipelines in December, according to a September presentation for a $48 million entitlement offer to fund early work before a planned final investment decision in March.
A pastoral subsidiary of Citic Pacific that operates the Sino Iron project has also lodged objections in the Warden's Court.
BCI told the market on October 29, two weeks after objections were lodged, that "land access arrangements with the pastoralist and gas pipeline owners are being progressed."
Boiling Cold asked BCI how close the parties were to an agreement and if the final investment decision planned for March 2021 would be delayed.
A BCI spokesperson said the company is working collaboratively with the stakeholders on the interfaces between the Mardie Project.
"Land access matters are confidential, and BCI cannot comment further at this time," the spokesperson said.
Chevron, Santos and Citic Pacific all declined to comment.
---
Main image: Salt stockpile with conveyor. Source: BCI Minerals Mardie definitive feasibility study
---