net-zero 2050
Big WA polluters fail green investment test
Most big WA carbon polluters including Chevron, Adbri, South32 and Woodside are wanting on emissions reduction targets, strategy and cash, according to benchmarking for the world's biggest investors.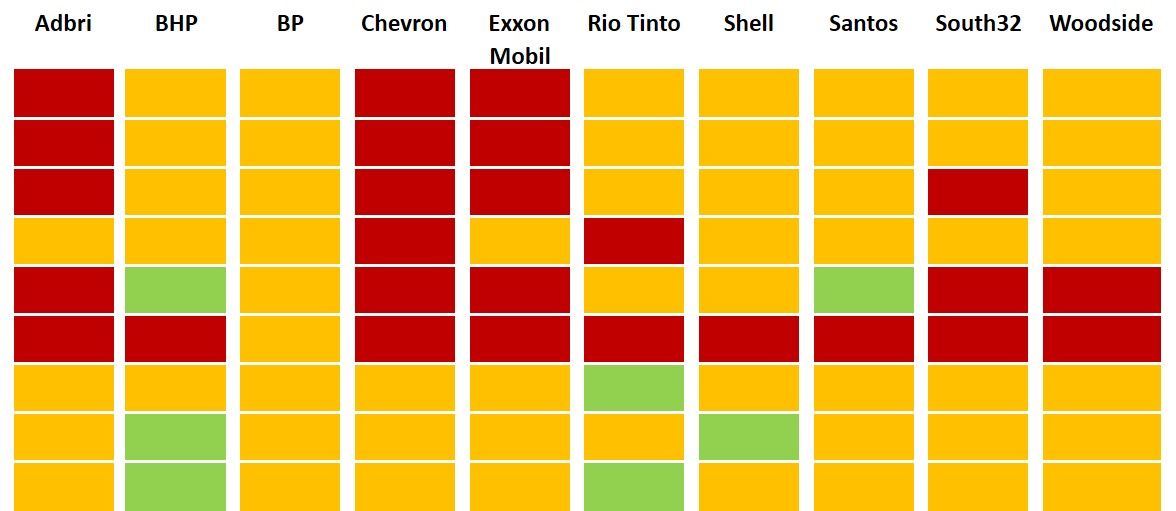 WA's biggest carbon polluter Chevron has comprehensively failed a test of preparedness for a net-zero emissions future, and other WA companies did little better, placing themselves at a disadvantage with the world's foremost investors.
Climate Action 100+ assessed 159 companies worldwide for alignment with restricting global warming to 1.5℃ and a net-zero emissions future. The benchmarking was done for 570 investors that manage $US54 trillion ($70 trillion) of assets.
Australian Super ESG director Andrew Gray said the assessment provided a baseline for investors to measure companies' progress in addressing climate change.
"It creates much-needed clarity for both investors and companies in climate change engagement, which will enable better management of the investment risks and opportunities from climate change," Gray said.
Boiling Cold considered 10 of the benchmarked companies with a substantial presence in WA. None performed well against all nine measures or fully disclosed how they would achieve net-zero emissions by 2050.

Chevron had the worst benchmark performance of the 10 companies.
The US-major's Gorgon LNG project is WA's biggest greenhouse gas emitter with 9.0 million tonnes in the 12 months to June 2019, according to Clean Energy Regulator. The performance was made worse by the failure of its $3.1 billion carbon storage effort to operate reliably.
Chevron's Wheatstone LNG project emitted 4.1 million tonnes.
Australia's largest foreign investor has no ambition to have net-zero emissions by 2050 or any targets to reduce emissions over the three time frames assessed: to 2025, 2035 and 2050, according to Climate Action 100+.
Fellow American ExxonMobil, which owns 25 per cent of Gorgon, faired almost as poorly in the assessment.
Adbri, formerly Adelaide Brighton, that has a lime plant in suburban Munster was judged as harshly as ExxonMobil.
Adbri's coal-fired plant operated under its Cockburn Cement brand emits the equivalent of 950,000 tonnes of CO2 a year, as well as a range of gases and particulates that plague nearby residents.
The other companies with a significant WA footprint made a level of commitment to reducing their direct, or Scope 1 and 2, emissions, but none had substantial ambitions to tackle the Scope 3 emissions of their customers.
BlackRock, the world's largest asset manager, is a member of Climate Action 100+ and a substantial equity owner in Australian-listed companies. The New York-based firm owns more than five per cent of Woodside, Santos, BHP and South 32 on behalf of its clients.
In January, BlackRock chief executive Larry Fink wrote to the chief executives of companies BlackRock is invested in and asked them to "disclose a plan for how their business model will be compatible with a net-zero economy."
"Companies that are not quickly preparing themselves will see their businesses and valuations suffer," Fink said.
Climate Action 100+ judged that only BHP and Santos had acceptable decarbonisation strategies to achieve their emissions reduction targets.
Woodside, which operates the North West Shelf and Pluto LNG plants that together emit 11.5 million tonnes a year, was assessed to have no strategy to meets its climate goals.
South32, operator of the coal-fired Worsley alumina plant emitting 3.6 million tonnes a year, received the same fail mark on strategy.
While most of the companies operating in WA had some emissions reductions targets and two had plans to meet those targets, Climate Action 100+ concluded none planned to spend their money in a way compatible with limiting global warming to 1.5℃.
Put simply; the companies had not put their money where their mouth was, with corporate spin running ahead of corporate plans.
Australasian Centre for Corporate Responsibility climate director Dan Gocher said none of the 12 Australian companies assessed by Climate Action had capital spending plans consistent with the Paris Agreement's goals.
"BHP, Origin Energy, Santos and Woodside all plan to significantly increase fossil fuel production over the next 5 to 10 years," Gocher said.
ACCR executive director Brynn O'Brien said the benchmarks marked the end of greenwashing.
"It is cast-iron proof that the world's largest emitters are failing to materially rein in their impact on the planet," O'Brien said.
"It is a reality check…there is no longer room for praising company posturing and losing sight of the need for genuine progress."
The Climate Action 100+ benchmarking did not cover the owners of some significant WA carbon polluters:
Inpex - Ichthys LNG project (WA & NT): 6.2 million tonnes
Synergy – coal and gas-fired power stations: 5.9 million tonnes (ineligible as state-owned)
Alcoa – South West alumina: 4.2 million tonnes
Citic – Sino Iron magnetite: 1.3 million tonnes
Yara - Yara Pilbara: 1.0 million tonnes
---