=== from the archive ===
WA's top ten carbon polluters: 2017
Big businesses in WA are allowed to spew into the air more than 64 million tonnes of greenhouse gases — almost 18 per cent of Australia's self-imposed limit.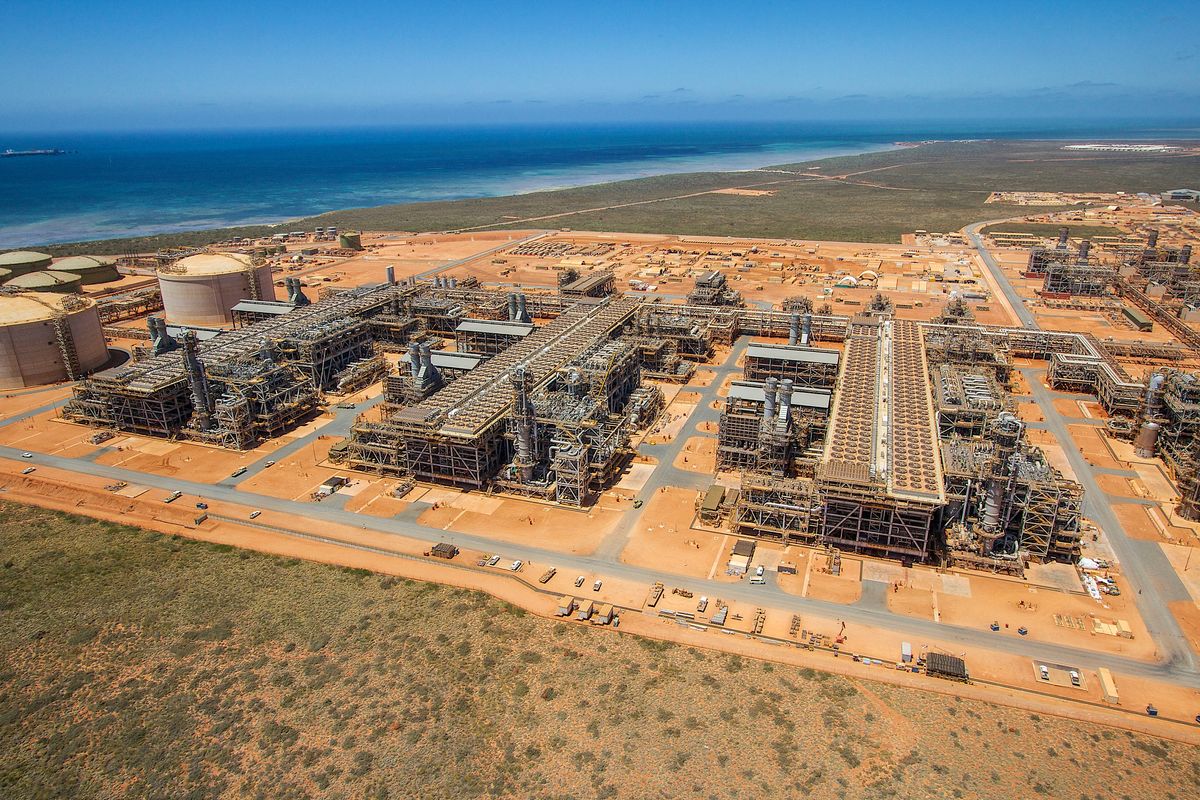 This story was originally published in The West Australian on 26 February 2018 with the headline "WA's big polluters revealed." © Peter Milne.
Big businesses in WA are allowed to spew into the air more than 64 million tonnes of greenhouse gases — almost 18 per cent of Australia's self-imposed limit.
The Clean Energy Regulator this month released an updated list of the greenhouse emissions permitted for the 353 facilities in Australia, including 93 in WA, that emit the equivalent of more than 100,000 tonnes of CO2 each year.
WA's top 10 greenhouse gas emitters: 2016-2017
(million of tonnes CO2e)
| | | |
| --- | --- | --- |
| Gorgon LNG - Barrow Island | Chevron | 8.3 |
| North West Shelf LNG - Karratha | Woodside | 7.6 |
| Muja Power Station - Collie | Synergy | 4.5 |
| Wheatstone LNG - Onslow | Chevron | 4.0 (est.) |
| Worsley Alumina Refinery | South 32 | 3.7 |
| Bluewaters Power - Collie | Sumitomo & Kansai Electric | 3.0 |
| Pluto LNG - Karratha | Woodside | 2.4 |
| Collie Power Station - Collie | Synergy | 2.1 |
| Yara Pilbara - Karratha | Yara | 1.6 |
| Pinjarra Alumina Refinery | Alcoa | 1.6 |
Up to 1000sqkm of mallee would need to be planted in the Wheatbelt to absorb 100,000 tonnes of CO2 annually, assuming the woodland performed like a Kalannie reforestation project described in Australia's Carbon Project Registry.
Production of LNG for export and gas for domestic use accounted for over 30 per cent of the State's permitted emissions from big facilities, an analysis by WestBusiness shows. The share will rise when the limit for the Wheatstone LNG Project, which will produce about four million tonnes a year, is published.
Collie's coal-fired power stations take two-thirds of the limit for power generation.
Gas-hungry alumina production has almost 14 per cent of the State's total allowed emissions, more than the massive iron ore sector.
Citic Pacific's Sino Iron Ore has the most emissions from a single iron ore facility, with a limit of almost 1.3 million tonnes a year. Production of a type of iron ore called magnetite concentrate is energy intensive but requires less energy than haematite to be turned into steel.
Most of the iron ore miners that produce haematite, including Rio Tinto, BHP and Fortescue Metals Group, have carbon footprints linked to earth moving.
Their rail operations together account for more than 1.4 million tonnes of emissions.
The International Energy Agency, in a review of Australia's energy policies released this month, described the Emissions Reduction Fund — which encourages businesses to reduce emissions — as being ineffective at restricting Australia's carbon emissions for both the power and industrial sectors.
Under environmental laws, big emitters have to stay under their highest annual emissions over a five-year period.
Power generators have to stay within that limit only if the sector as a whole exceeds 198 million tonnes a year.
Synergy said that, because of the closure of a number of coal-fired power stations across Australia, it was unlikely that the sector would breach its limit.
The IEA said that though the power sector had the greatest potential to contribute to Australia meeting its emission reduction goals, it was not subject to any effective cost for its emissions.
Emissions from the industrial, or non-power, sector were not affected by the ERF because of high allowable emissions limits, according to the IEA.
Limits can be lifted if the facility exceeds its limit in the first year of the scheme, expands, or, for mining and oil and gas, if the properties of the resource extracted changes.
The Gorgon LNG project may emit 8.3 million tonnes a year — more than any other facility in the State. Its limit is higher than the 6.4 million tonnes operator Chevron estimated when it sought environmental approval.
A Chevron spokeswoman said the company would look at opportunities to minimise emissions once the plant achieved stable operations and the lower number from the environmental approval represented the anticipated level of emissions during steady-state operations.
Gorgon planned to inject underground carbon dioxide extracted from gas flowing from the reservoirs. Technical problems mean injection may not start until the first half of next year.
Emissions from cement production are missing from the published data. The baseline limits for Cockburn Cement's Munster cement and lime and Dongara lime operations are withheld, as are six other cement facilities across the country.
Companies can apply for their information not to be published if doing so could reveal matters of commercial value.
Adelaide Brighton, the owner of Cockburn Cement, declined to comment on why its limits could not be published, citing commercial sensitivity.
Emissions from cement production differ from other industries as over 60 per cent of the carbon dioxide comes from chemical reactions during the process, rather than the burning of fossil fuels.