Domestic Gas
WA Government wants gas-powered growth
The WA Government wants to lure industry to WA with cheap gas just as the oil price plunge puts further supply from Woodside's Scarborough and Browse projects in doubt.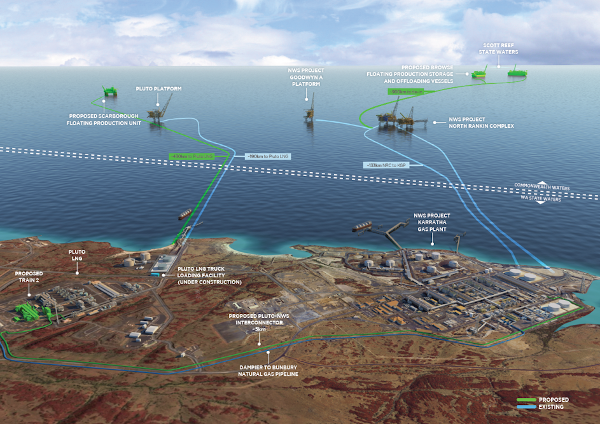 The WA State Government wants to launch new industries off the back of the gas LNG producers are forced to reserve for local use just as Woodside warns that the Scarborough and Browse LNG projects are facing headwinds from price and partners.
Rebecca Brown, the director general of the Department of Jobs, Tourism, Science and Innovation, yesterday said the Government would pursue value-adding downstream processing industries as well as future energies such as hydrogen production.
The move supports Premier Mark McGowan's call last year for the Federal Government to help east coast gas industries hit by soaring gas prices to move west.
Speaking at the Australasian Oil and Gas Conference in Perth Brown said the Government would undertake an independent study this year to identify opportunities to develop gas-consuming industries and recommend how to remove any issues that may be blocking new entrants.
"It's about recognising the importance of LNG as a resource to the broader economy," Brown said.
New transport uses, petrochemicals and hydrogen are among the industries to be studied.
The report will consider the volume of gas required, the gas price that would allow the investments to breakeven, schedules, potential economic impact and likely future sources of gas as well as factors unrelated to gas, such as the availability of industrial land, infrastructure and proximity to markets
The work is part of a push to diversify the WA economy launched by the McGowan Government last year that named energy as one of the priority sectors.
Brown said the Government would also consider collaborating with industry to develop carbon capture and utilisation hubs in WA.
How growth in investment in gas-consuming industries that are likely to operate for decades fits with the Government's aspiration for net-zero carbon emissions by 2050 announced in August was not addressed in Brown's speech.
The Australian Energy Market Operator's recent review of the WA gas market predicted demand would remain dominated by the mining and industrial sectors with gas-powered generation a relatively minor user.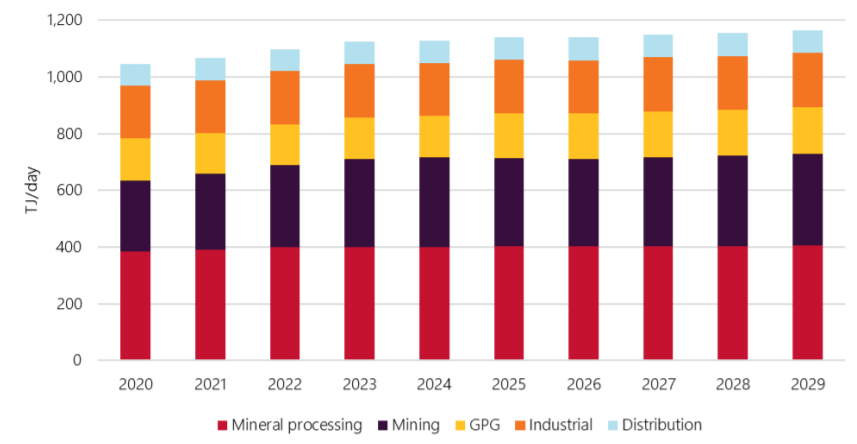 AEMO's base scenario that gas supply would exceed demand for the next decade assumed Woodside's Scarborough and Browse LNG projects go ahead and provide up to 380 terajoules of gas a day from the middle of the decade. Under the WA domestic gas reservation government policy 15 units of gas must be reserved for use in WA for every 100 units of LNG exported.
Woodside executive vice president development Meg O'Neill told the AOG conference that with plunging oil and gas prices "none of us know how this will play out."
This year Woodside plans to sanction the $US11.5 billion Scarborough project and approve the start of front end engineering and design to bring gas from the Browse fields the North West Shelf LNG plant.
Last year Woodside chief executive Peter Coleman accused BHP and Chevron, the two North West Shelf partners not in the Browse venture, of slowing down negotiations to process Browse gas through the NWS plant.
"In the event that industry can't agree on opening up facilities to third parties it would be understandable if governments were to intervene, and none of us wants that," O'Neill said.
Giles Farrer, a research director with energy consultancy Wood Mackenzie, said projects that had not taken a final investment decision would be the sector of the LNG industry most affected by the oil price crash of the last week.
"Record LNG supply investments last year and plunging LNG spot prices this year were already testing the appetite of LNG project developers to sanction new LNG projects in 2020, but the drop in oil price will make these decisions more complicated," Farrer said.
"As a result, there will be fewer LNG projects taking FID in 2020 and 2021."
---
Main Picture: Schematic of the Burrup Hub developments. Credit: Woodside.