=== from the archive ===
Korean-built gas giants arrive in WA
In 2017 Australia's made-in-Korea offshore LNG boom saw three giants towed 5600km south, but 2018 is crunch time: making it all work.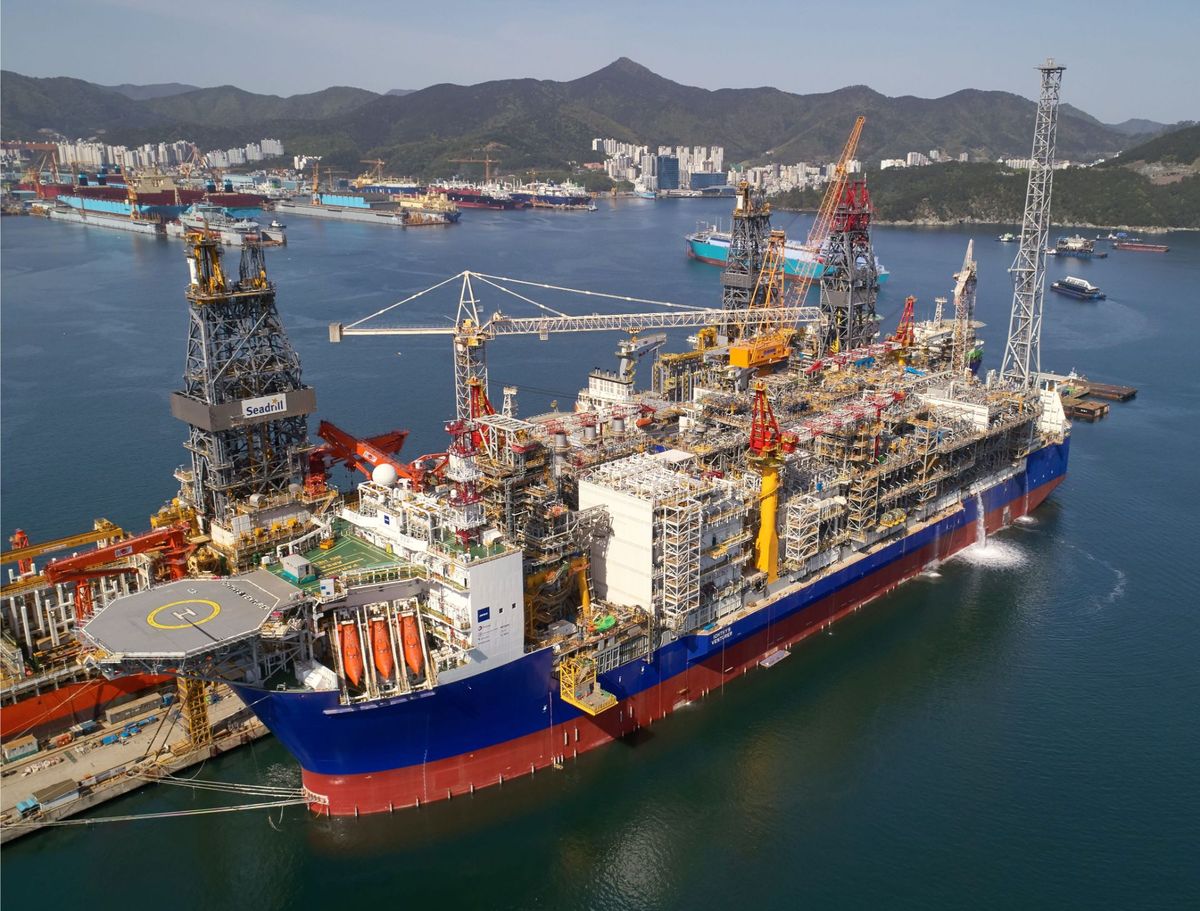 This story was originally published in The West Australian on 30 December 2017 with the headline "Offshore gas giants on station." © Peter Milne.
This year Australia's made-in-Korea offshore LNG boom saw three giants towed 5600km south, but next year is crunch time: making it all work.
The world's biggest vessel, Shell's almost half-kilometre long Prelude floating LNG facility, and two other maritime giants for Inpex's Ichthys project, were towed from South Korea to the Browse Basin off the Kimberley coast.
Further south, in the Carnarvon Basin where the Australian LNG industry began, the third and final train of Chevron's Gorgon project, which kicked off the construction spree eight years ago, started production.
The US major's Wheatstone project near Onslow shipped its first cargo in October.
All three huge vessels now anchored to the seabed off WA, along with Wheatstone's production platform installed in 2015, were made in two shipyards on South Korea's Geoje Island.
Geoje Island may well have benefited from more Australian LNG construction expenditure than Barrow Island with Gorgon, or Queensland's Curtis Island that is home to three LNG plants fed by coal seam methane.
The Ichthys Explorer led the migration from Samsung Heavy Industry's shipyard to the Ichthys field, about 200km off the Kimberley coast.
The 130m by 120m giant, the world's biggest semi-submersible platform, will separate the gas, which is piped to the LNG plant near Darwin, from the liquids, that will be sent to the Ichthys Venturer and then loaded on to tankers.
The Ichthys Explorer, which will be home for 200 workers over 40 years, is permanently moored to the seabed.
In its wake was Shell's floating LNG facility Prelude, the world's biggest-ever vessel. Containing as much steel as 36 Eiffel Towers, it spans three times the length of the oval at Optus Stadium.
Unlike the Ichthys Explorer, which is fixed in position, Prelude weathervanes around a turret. Prelude cannot be disconnected for cyclones over its life of 20-25 years, so the turret is built to withstand the load of the fully laden vessel in the worst storm you could expect in 10,000 years.
Prelude is not only massive, but also complicated. Shell's engineers had to make an ordinarily land-based technology operate in a moving sea in a fraction of the usual space, and safe for the workers who live metres from the plant, not kilometres.
The most hazardous plant is located above deck, where any gas clouds or blasts can disperse, and far away from the crew's accommodation.
Loading arms that transfer the LNG from Prelude to carriers must swivel and rotate to follow the motion of the ship for the 15-hour loading process while Prelude is steadied by giant thrusters underneath.
In July, the 336m-long Ichthys Venturer floating production, storage and offloading facility left Daewoo Shipbuilding and Marine Engineering, about 20km away from the Samsung yard that built Prelude and its Ichthys sistership.
When the Ichthys Venturer arrived at its final location in the Browse Basin, it was still about 20km from Prelude.
With all the multi-billion-dollar pieces of kit now in place, the focus has turned to perhaps the more significant challenge of producing LNG reliably at design capacity.
After an investment of almost $190 billion, the pressure is on to generate returns from late, overbudget projects that were launched in an LNG market boom but are selling into a bust.
Experience this year onshore has shown these final steps are difficult.
Chevron's Gorgon, the nation's biggest resource project, is still struggling nine months after the final train started up with reduced production from inadequate cooling of the plant and a delay to its landmark carbon dioxide injection.
First LNG from Wheatstone slipped from mid-year to October, and in May Inpex, after contractors walked off its Darwin plant site, pushed back first production six months to next March.
The industry also worked hard to extract more value from existing projects.
In March, Woodside went full circle in how to develop its Browse fields. It announced a return to the plan to pipe the gas over 400km to its North West Shelf plant, which begins to run out of its own gas early next decade, after spending years and billions considering floating LNG and a processing plant near Broome.
ConocoPhillips faced a similar lack of gas for its Darwin LNG plant and in November said the Barossa field in the Timor Sea might fit the bill.
Pluto is not short of gas and in February Woodside said it was considering a small, one million tonnes-a-year expansion train that could be moved to site as a single module.
However, by October the favoured option was to pipe surplus Pluto gas to the nearby NWS plant.
It was not just engineers toiling in 2017. The industry's legal, media and government affairs staff fought demands that Australia receive tax revenue commensurate with the vast volumes of gas to be exported over coming decades.
The industry scored a comprehensive victory in April when the Federal Government's Callaghan inquiry did not recommend any substantial changes to the petroleum resource rent tax.
The energy giants had stood accused of gaming the PRRT — how producers are meant to pay for the nation's oil and gas they extract — to avoid payment.
Things didn't go as well for Chevron when the Full Federal Court upheld an Australian Taxation Office victory on the pricing of its inter-company loans.
Financial Services Minister Kelly O'Dwyer has said the decision's wider effect could boost government revenue by $10 billion over the next decade.
Amid billions of dollars and tonnes of steel, any industry really consists of its people. Tragically, late last month Carl Delaney, who worked on the Ichthys LNG tanks in Darwin, died in an accident on site.
It was a year-end reminder of the importance of safety efforts through this once-in-a-lifetime build of vast projects of mindboggling complexity with tight schedules.