LNG
How Don helped Kerry win the east coast gas game
Don Voelte does not hold back telling the tale of the east coast gas mess that Woodside wisely avoided and Beach Energy profited from.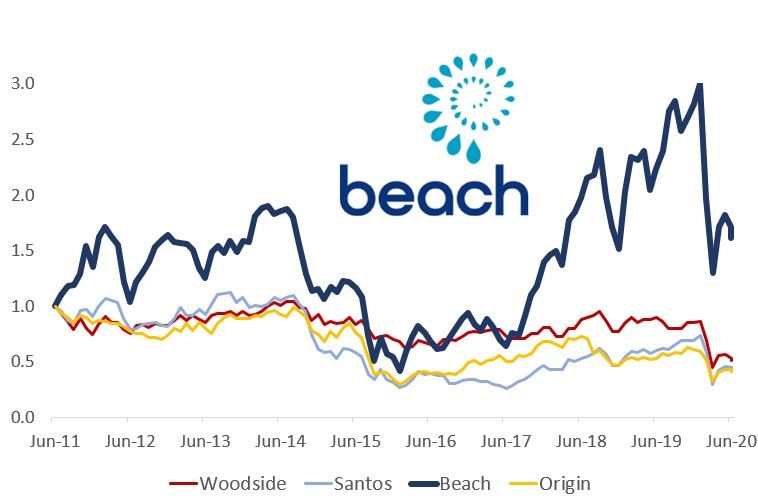 Big-talking American Don Voelte's time at the helm of Woodside is best known for launching the Pluto LNG project that went from discovery to production in the impressive time of seven years.
Woodside shareholders also need to thank the Nebraskan for the opportunity he avoided: the rush to make LNG from Queensland's coal seam gas.
"When I was at Woodside we sat there and said we can't believe they're doing this coal seam gas to LNG, no calorific value, no hydrocarbon, it was a 70 billion dollar research project," Voelte said last week.
"A lot of us just had an absolute ultimate belief that it wouldn't work,
"We didn't know where the reserves were coming from,
"How do you have 10,000 wells?"
Santos, Origin and British Gas planned to separately build three near-identical LNG plants next to each other on an island off Gladstone in Queensland. Gas production in the eastern states needed to triple to supply the new plants and the existing domestic market.
Speaking at the annual Credit Suisse Australian Energy Conference Voelte said Woodside analysed the impact on the east coast gas market it was "unbelievable" that governments did not reserve gas for the domestic market.
"Man this was like taking candy from a baby, these guys were putting lipstick not on a pig but on a boar hog...and they were suffocating the rest of the east coast," Voelte said.
Voelte said for local proponents Santos and Origin "it was almost like, if you didn't have LNG you gotta go out there and get some."
"BG were a different thing, they were doing pump and dump," Voelte told Credit Suisse head of Australian energy research Saul Kavonic.
"They just wanted to get that company sold, which they did."
Shell bought BG in 2016 for $US53 billion, and the QGC LNG project it got in the deal was a major reason behind a $US8 to $US9 billion impairment of its gas business this week.
Hell for gas buyers, heaven for Seven
Voelte took charge of the Kerry Stokes' Seven Group in 2013, two years after he left Woodside. By then all three Gladstone LNG projects were under construction.
It was plain to all but the cheerleaders that doubts about the productivity of coal seam gas wells and the practicality of drilling and connecting thousands of wells meant the new LNG plants would need more gas to meet their LNG contacts.
That gas could only come from the existing conventional gas fields that would likely enjoy a hefty price increase when demand outgrew supply.
Under Voelte Seven Group started a strategy to invest in east coast conventional gas producers not involved in Gladstone LNG.
"We would go down and buy some shares, the illiquidity of the market would pump those shares up at Beach and at Drillsearch, and then we waited a few days, they came down, we bought some more,"
"It was amazing, the strategy just sat there and fell in (place), and everything worked perfectly."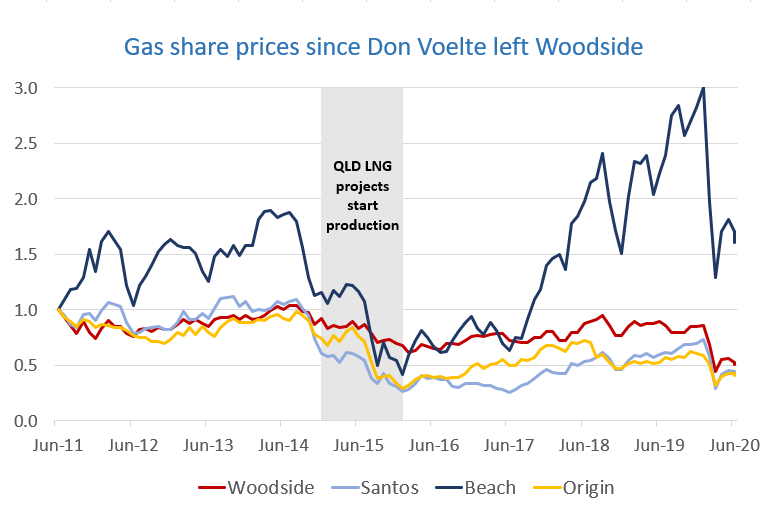 Voelte vacated the Seven Group chief executive's chair for Ryan Stokes in August 2015.
A few months later, Seven's gas investments came together when Beach took over Drillsearch.
Looking back, Voelte said the strategy "came through exactly as we thought."
"It's all about consolidation of that gas position on the east coast,
"So that was kind of fun; in fact, it was a blast."
The strategy continued in late 2017 when Beach more than doubled its size by buying Origin's conventional gas assets for $1.6 billion. The deal left Origin with its troublesome coal seam gas production.
Voelte said chairman Kerry Stokes, his son Ryan and chief financial officer Richard Richards were leading Seven Group well.
"I think they've got some more tricks up their sleeve and they're always thinking ahead," he said.
Beach Energy, that Seven Group owns 28.6 per cent of,  is thought to be one of the suitors for Exxon's 50% share of the Bass Strait offshore oil and gas fields.
Western deadlock
In the nine years since he left Woodside headquarters the west coast gas industry has generally played out as Voelte expected.
He thought that what was Exxon's Scarborough field would be supplying a second and third LNG train at Pluto by now.
"We had it pretty well lined up when I left, and I was hoping that would go through," he said.
Eventually, Woodside under Voelte's successor Peter Coleman bought Exxon out of Scarborough in 2018 and was planning to sanction the project this year before the COVID-19 oil and gas price crash.
What has not changed is the notorious difficulty of progressing a new development that has multiple LNG companies involved.
"It's combatted by all the people that are trying to jockey for position and things like the North West Shelf and Browse," Voelte said.
"The biggest hindrances there were not the government, weren't the local issues which could be managed; it was basically all the different people who had interests in the deal and the control issue."
Unlike many in the industry, Voelte said he thought demand for fossil fuels would bounce back, but he was less sure about pricing.
"I'm sure the next round will be like every other boom and bust, and we'll go in and piss it all away again," he said.
---
Correction 2PM 3 July: First paragraph incorrectly stated that Pluto went from discovery to LNG production in record time. Arun, in Indonesia, did this in less time, and there may be others.