Woodside Petroleum
Bad news for Woodside's LNG growth plans from S&P and Shell
Delay to Woodside's big growth bet on the "Burrup Hub" Scarborough and Browse LNG projects looks more likely with Woodside warned not to overspend as its partners trim their budgets.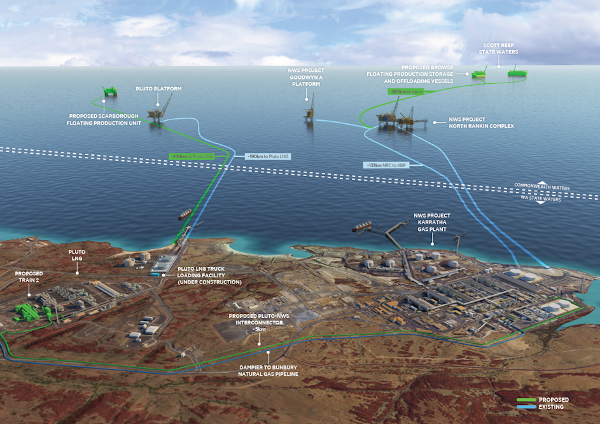 Prospects for Woodside progressing its Scarborough and Browse LNG projects in 2020 faded today with S&P warning Scarborough could affect its credit rating and Browse partner Shell announcing spending cuts.
Standard and Poors has placed Woodside on credit watch "with negative implications to reflect the heightened risk of a downgrade" if the company did not manage its finances well.
"We believe growth projects sanctioned in the current environment would indicate a heightened risk appetite, and would likely be negative for the company's credit profile," the ratings agency said in a statement today.
Woodside had planned to sell down its 75% equity in the Scarborough to Pluto LNG project to about 50% before sanctioning the $US11.4 billion project mid-2020.
In mid-February when the economic impact of COVID-19 was less clear Woodside chief executive Peter Coleman said Scarborough could go ahead without a sell down. S&P made it clear today that it did not favour that option.
"A willingness to progress projects with a high ownership stake and on a lowly contracted basis, amid a depressed oil and LNG spot price environment, would translate to incremental project and commodity price risk, in our view."
S&P said Woodside's funds from operations to debt ratio could materially breach 30% in 2020 if it went ahead with Scarborough without an additional partner. There was a "high likelihood" of a reduction of one notch in its current BBB+ credit rating if Woodside did not signal a change of course in the next month or so.
Woodside's wish to start front end engineering on the $US20.5 billion Browse to North West Shelf LNG project this year also suffered a setback today.
Shell that owns 27% of Browse announced it would cut its 2020 capital budget by at least 20% to $US20 billion or below.
Last week BP, with a 17.3% interest in Browse, announced it would cut captial spending by abut 20%.
Shell chief executive Ben van Beurden said the company was "taking immediate steps to ensure the financial strength and resilience of our business," in response to the unique combination of steeply falling oil demand and rapidly increasing supply.
Shell's contribution that could exceed $US100 million may be an early candidate for a budget cut given widespread industry chatter that Shell did not favour the high emissions from the project.
The Anglo-Dutch giant is already highly exposed to LNG production in Australia with a 25% interest in Gorgon, one-sixth of the North West Shelf, a majority stake in QGC in Queensland and 67.5% of the troubled Prelude floating LNG facility.
Shell was slapped down by offshore safety regulator NOPSEMA in January for inadequately performing the fundamental safety procedure of isolating equipment before it is worked on. Two weeks later production was halted after recurring power failures rendered even the toilet system out of action.
A revised notice posted by NOPSEMA today extended until May 31 the time for Shell to fix its safety procedures due to added difficulties from measures to contain the spread of COVID-19.
The NOPSEMA direction said Shell had made significant progress in rectifying the problems identified by the regulator.
---
Main Picture: Schematic of the Burrup Hub developments. Credit: Woodside.