NOPSEMA
Woodside gets environmental OK for Scarborough LNG
NOPSEMA has given the environmental credentials of Woodside's Scarborough LNG project a regulatory tick and gushing praise.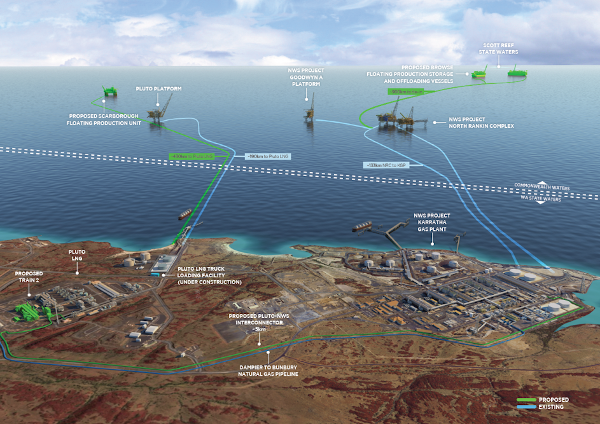 Woodside's proposal to develop the Scarborough gas field for LNG was today accepted with gushing praise by the environment regulator NOPSEMA, less than a week after go-ahead for the $US11.4 billion project was delayed to 2021.
Greenhouse gas emissions from the Scarborough offshore facility of about 0.5 million tonnes of CO2 equivalent a year form a "small fraction of emissions relative to the overall project" according to Woodside's offshore project proposal lodged in June 2019.
Emissions from an additional LNG train to be built at Pluto to process gas from Scarborough will be up to 2.1 million tonnes of CO2e a year, according to the proposal. The emissions from Pluto are not within the scope of the NOPSEMA approval.
NOPSEMA's announcement was effusive in its praise for the environmental benefits of Woodside's project and used language some may find unusual for an independent regulator.
"In recognising the need to transition to a lower-carbon future, Woodside's proposal positions Scarborough gas to play a key role in the future global energy mix," according to NOPSEMA.
"Woodside will be contributing to global efforts to reduce global greenhouse gas levels by actively displacing more carbon-intensive power generation with gas."
NOPSEMA will issue the approved offshore project proposal and the reasons for its decision within 10 days.
There will be "provision for monitoring and adaptation to changes arising as a result of uncertainty in the context of global climate change," according to the NOPSEMA statement.
Woodside chief executive Peter Coleman said the acceptance was a significant step forward for the Scarborough.
"Although we are now facing challenging market conditions due to the impact of COVID-19 and volatile oil prices, Scarborough is a world-class resource which we plan to develop at a globally competitive cost through our proposed Burrup Hub," Coleman said.
"Woodside is continuing work to ensure we have all the necessary regulatory approvals and commercial agreements in place to ensure a final investment decision can be taken for Scarborough in 2021."
The Scarborough field contains an estimated dry gas contingent resource (2C) dry of 11.1 trillion cubic feet. It operated by Woodside and BHP owns 26.5%.
---
Main Picture: Schematic of Woodside's Burrup Hub plan consisting of the Scarborough and Browse LNG projects. Source: Woodside Energy Limited.