Woodside Petroleum
Woodside's Scarborough LNG uneconomic before price crash: Woodmac
If Scarborough, considered the most economic of Woodside's two projects, was uncompetitive before LNG prices crashed then plans will have to change on the Burrup Peninsula.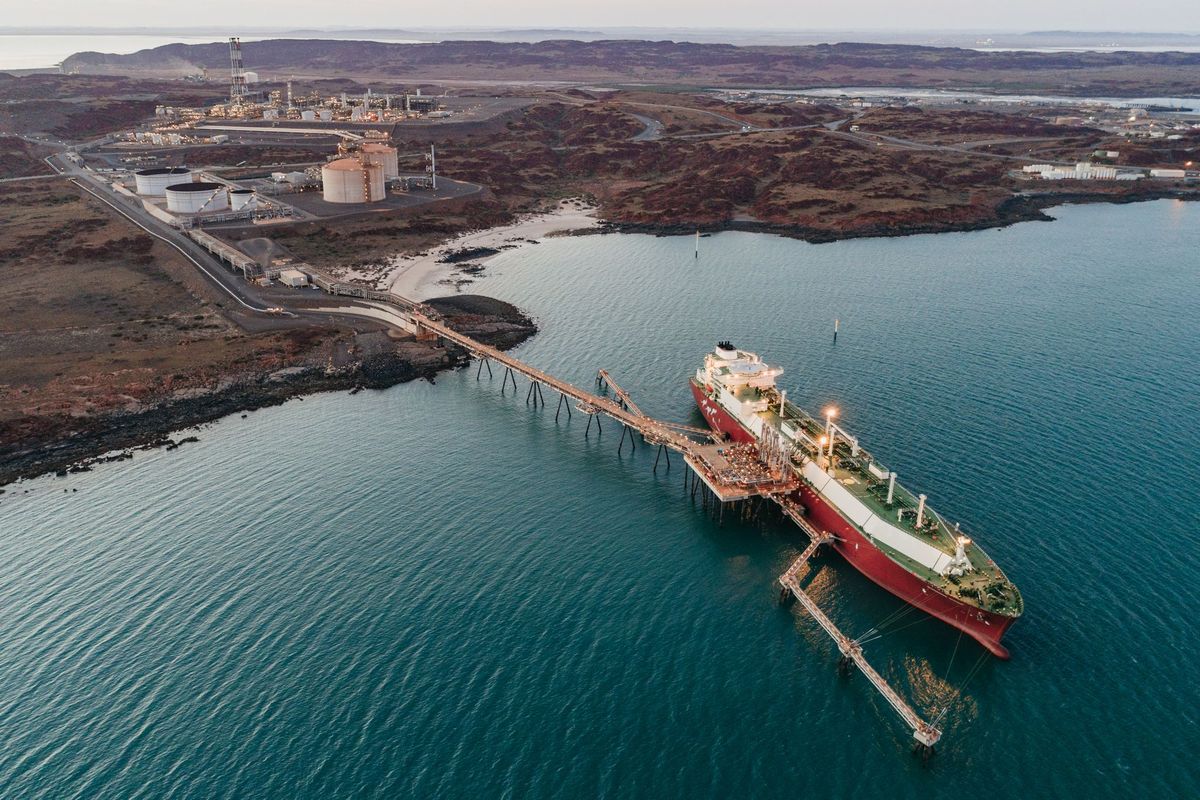 ANALYSIS
Woodside's $US11.4 billion Scarborough to Pluto LNG project was uneconomic even before the COVID-19 oil price collapse, according to energy consultancy Wood Mackenzie.
The project that Woodside had hoped to sanction in mid-2020 before the oil price crashed needs an LNG price of about $US9.30 a million British thermal units to achieve a reasonable return. The breakeven price is well above the "competitive range of $US7-8 a mmBtu" determined by Wood Mackenzie.
Wood Mackenzie usually confines such damning assessments to its customer base of mainly large oil and gas companies. Scarborough's problems were made public by in report commissioned by Australia's oil and gas lobby group APPEA.
The LNG price that Scarborough needs over the life of its production is equivalent to Brent crude price of more than $US70 a barrel. The price of Brent crude is currently about $US30 a barrel.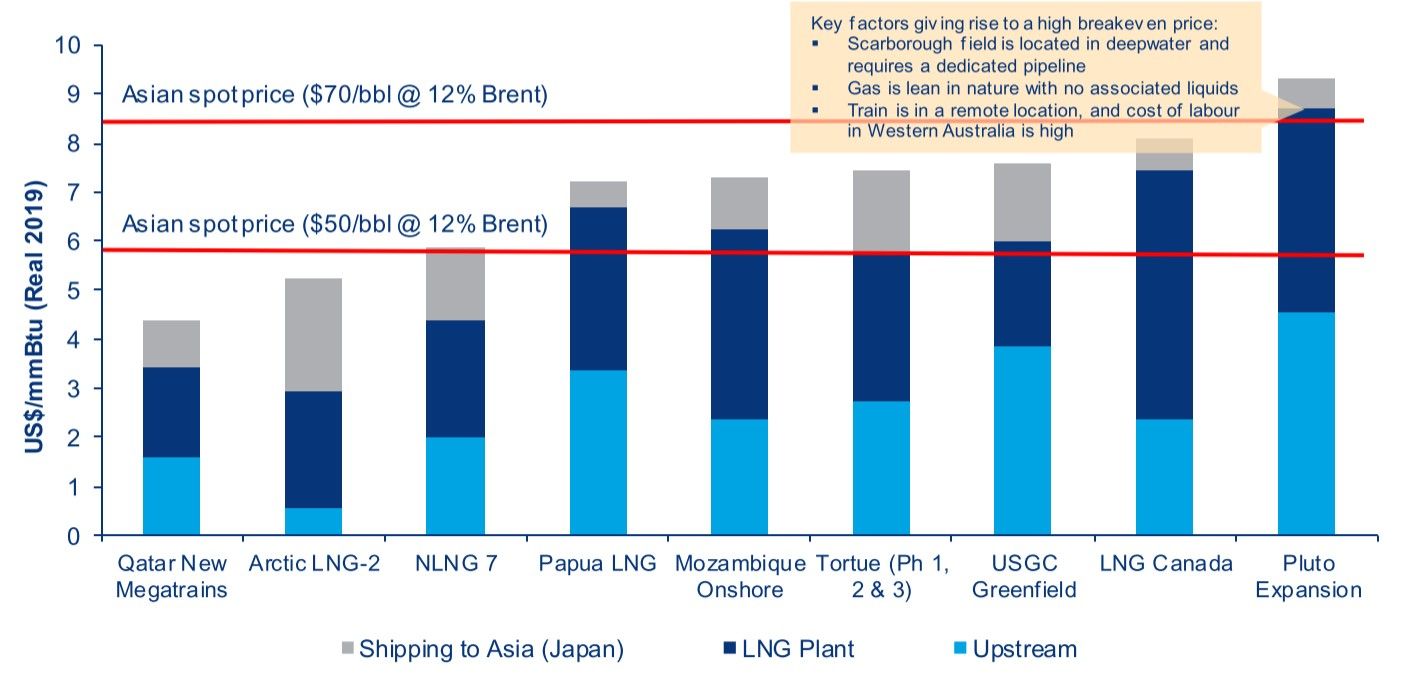 Scarborough gas processed through a new Pluto LNG train was the most expensive way to deliver LNG to Asia of nine proposed LNG projects assessed by Wood Mackenzie.
Scarborough had the highest cost to deliver gas to an LNG plant. The proposed new five million tonnes a year train at Woodside's Pluto project was the second most expensive LNG plant per unit of capacity.
Qatar can deliver LNG to Woodside's Asian customers for less than half the price of Scarborough, according to Wood Mackenzie.
The low-cost Qatari gas will be flooding the market in huge quantities at the same time Woodside had planned for its Scarborough and Browse LNG projects to start up.
Qatar energy minister Saad al-Kaabi told Reuters last month that first production from the country's expansion of its LNG capacity from 77 million tonnes a year to 110 mtpa would start in 2025. A second expansion to take total LNG capacity to 126 mtpa in 2027 would continue.
"We are moving full steam ahead with the North Field expansion. There is absolutely no hesitation on that," Kaabi said.
Woodside's road ahead to the Burrup Hub
The Wood Mackenzie analysis assumed gas companies required a 12% annual return from an integrated LNG project. This is the same rate that Woodside told its investors in November 2019 was a typical hurdle the company used to screen investments.
Woodside could supply LNG for less than the uncompetitive $US9.30 a mmBtu price by accepting a lower return on its investment. However, it is unlikely that BHP, Woodside's 25% partner in Scarborough, would accept such a cut as it has many more investment options than its smaller and less diversified partner.
The conclusion that a Scarborough investment needs to accept sub-par returns to be competitive is unwelcome news for Woodside's Browse LNG project that the industry widely regards as being less economically viable than Scarborough.
Since early 2018 Woodside chief executive Peter Coleman has pushed two transformational projects for the company. Gas from Scarborough would flow to an expanded Pluto plant, and the adjacent North West Shelf LNG plant would process gas from the distant Browse filed. A pipeline connecting the two LNG plants would complete what Woodside dubbed the Burrup Hub.
A Woodside spokesperson said the Perth-based LNG specialist "believes the development of the Scarborough resources through Woodside's proposed Burrup Hub remains among the world's most cost-competitive LNG investment opportunities."
Woodside's conclusion is at odds with Wood Mackenzie's analysis unless there is a massive improvement in the economics of the Burrup Hub.
That change is likely to be a connection of the cheapest source of gas – Scarborough – with the most affordable available liquefaction capacity – the existing NWS LNG plant. The Pluto expansion and the Browse development would be put on the back burner.
Woodside has taken a small step towards that end with the announcement that CIVMEC will build the facilities at Pluto to link the two LNG plants.
Woodside approved the construction of interconnector pipeline in November 2019, but it still has not got its NWS and Pluto partners on board.
Managing the diverse interests and asks of the Scarborough, Pluto and Browse partners for the shrunken Burrup Hub concept of Scarborough to the North West Shelf will be a much tougher fight than getting their agreement on a comparatively trivial pipeline.
And then there are the Qataris to worry about.
---
Main Picture: Pluto LNG plant near Karratha. Source: Woodside Energy Ltd.