Woodside Petroleum
Woodside finds it's not easy being green
Woodside is struggling to portray itself as both green and gassy with mixed messages about carbon emissions, the threat from renewables and why all the way with LNG is a sound long term strategy.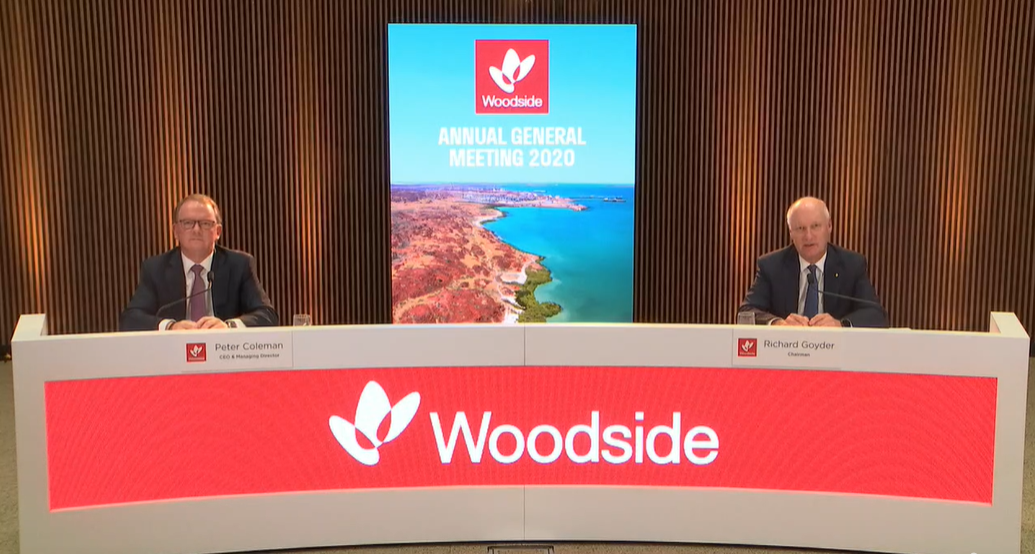 ANALYSIS
Like Kermit with a stomach upset Woodside's chair Richard Goyder and chief executive Peter Coleman looked uncomfortable trying to be both green and gassy at Thursday's annual general meeting.
The big news was the unprecedented support for two votes to push Woodside to take a stronger stance on climate change.
A push for Woodside to report each year on how its activities support the Paris Agreement emissions reduction goal was backed by 50.1% of shareholders, and more than 42% wanted to ensure that any lobbying Woodside supported was consistent with the Paris Agreement.
However, the majority support for supporting Paris reduction goals will not bind company management as the 7% of shareholders that supported a supporting amendment to the company's constitution was well below the required 75%
Shareholders peppered Goyder and Coleman with questions on two themes: was Woodside's gas good for the environment and was the company's embrace of LNG a sound long-term investment choice.
When a shareholder of 10 years standing complained that Woodside had been a poor investment Goyder's defence was that oil and gas had had a difficult decade, but Woodside had been in the top quartile of the beleaguered industry.
In February, just before the COVID-19 share price collapse, Woodside's share price was $33.20: a drop of more than 20% over 10 years ago. Woodside closed on Friday at $21.13 a share.
Goyder did not explain why the next decade for oil and gas will be less challenging than the last.
Shell chief executive Ben van Beurden, with 37 years' experience in oil and gas, had a different perspective this week that indicated the coming decade might be tougher than the last one.
"Will demand ever go back to where it was? That is hard to say," Van Beurden said.
"We live in a crisis of uncertainty at the moment; we don't know what is on the other side."
"We probably have to re-establish what is going to be our strategy."
When asked if Woodside would match its European counterparts and diversify "beyond pure fossil fuel extraction" Coleman outlined investigations into carbon trading, carbon sinks and small-scale hydrogen plants.
"We are going to scan the horizon pretty closely because out of COVID-19 there may be opportunities that present themselves that allow us to accelerate our activities in this area," Coleman said.
Coleman's boss Goyder immediately stepped in to clarify there would be no significant change in Woodside's direction.
"One of the things were pretty clear on as a board is that Woodside is a very good LNG company," Goyder said.
"We've got a strong balance sheet, and we've got a capacity to look for new opportunities, but I wouldn't overestimate that in terms of changing what we do, we're an LNG company."
A big challenge for oil and gas companies wanting to invest in renewable energy was finding opportunities to invest in with the multi-billion scale they are used to, Coleman said.
Presumably, Woodside is unaware of the backing of those two low-profile businessmen Andrew Forrest and Mike Cannon-Brookes for a $20 billion solar farm in the Northern Territory to export power to Singapore. Closer to Woodside's LNG plants, Macquarie is involved in the $22 billion Asian Renewable Energy Hub.
Coleman was also concerned about investing in a rapidly improving technology.
"The efficiency of solar panels is changing at such a rapid pace that investors in that area can find themselves with marginally higher cost plants very very quickly," Coleman said.
The continued driving down of the cost of solar energy, together with wind power and battery storage is putting the role of coal gas at risk, according to a BloombergNEF report released the same day as Woodside's AGM.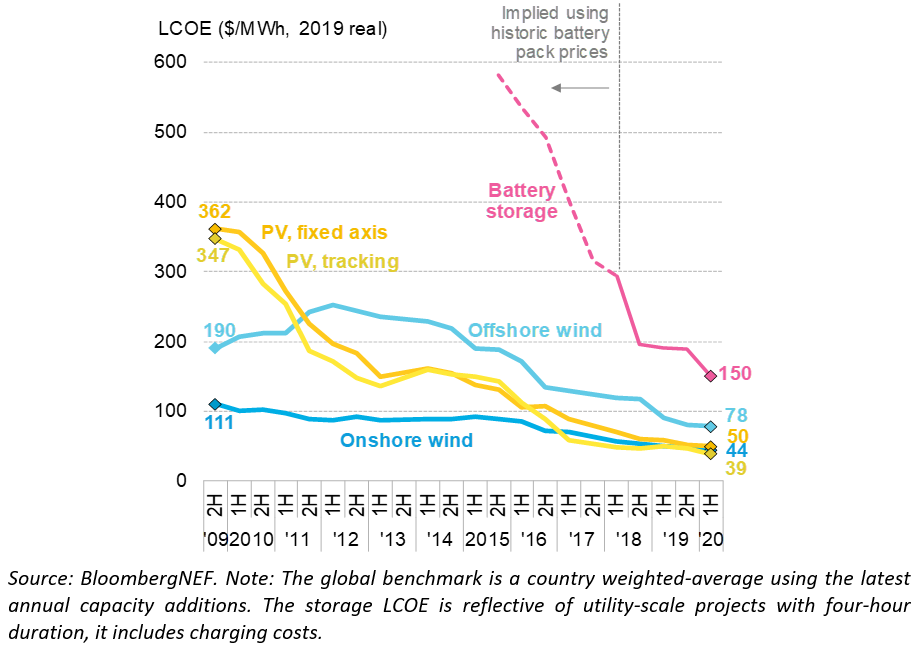 The gas industry has marketed itself as a natural partner for renewable energy as open-cycle gas turbines, or peakers, can quickly fire up to supply power when renewable generation drops off.
But battery storage was the cheapest technology for up to two hours of peaking power in the Chinese and Japanese gas markets Woodside targets, according to BloombergNEF.
Cost reductions in solar and wind energy since 2016 have mainly been driven by the increased size of projects, nit technology, according to Bloomberg NEF. The sort of projects that Woodside cannot find.
The threat to gas from renewable energy is acknowledged in the report Woodside commissioned to defend the environmental credentials of LNG.
"This form of power generation is growing at an exceptional pace, supported by maturing technology and falling prices," the report said.
"All of this indicates that renewables will take an ever-greater share of power markets, leaving the various fossil sources to compete for the remaining market share."
Woodside is betting its future not just on displacing coal, but that the growth in renewable energy is slower than the rate at which coal disappears. If that does not happen then gas has a diminishing market share.
Woodside's report by consultant ERM shows that emissions from Browse LNG used to generate power in China will be greater than the system's average by 2027. The analysis based on the International Energy Agency's scenario closest to the Paris Agreement shows Browse LNG will be making carbon emissions worse, not better, by the time the project is in production.
Coleman acknowledged that Browse had the largest carbon footprint of any Woodside project. When asked about analysis by the Conservation Council of WA's Clean State campaign that confirms the dirty status of Browse Coleman said: "we haven't had a chance at all to critically review the assumptions in it."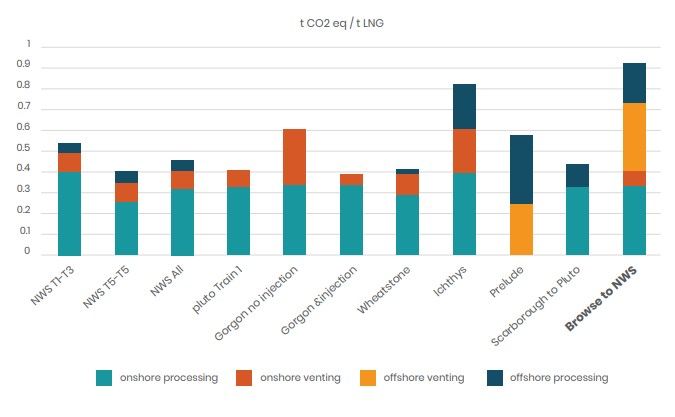 After a barrage of questions querying Woodside's climate credentials, a shareholder took the opposite tack and asked Coleman why the company was planting trees when renewable energy would soon be a thing of the past.
"We've already been clear that our view is that climate change is real," Coleman said.
"It's one of those very difficult things because by the time you start to see the true impact of climate change …it's really too late to rectify it,
"You have to act as though it's going to happen…and that's why we're taking a very measured approach to it."
Time will tell if Woodside's cautious approach to changing to its business model is prudent or the corporate equivalent of the slowly warming frog that forgot to jump out of the pot.
---
Main picture: Woodside chief executive Peter Coleman and chair Richard Goyder at the 2020 virtual AGM 30 April 2020. Source: Screenshot of webcast.