=== from the archive ===
Woodside and ConocoPhillips look to new Australian LNG projects
Woodside and ConocoPhillips are gravitating toward the cheapest development options for their Browse and Barossa gas fields to compete with low-cost Qatar.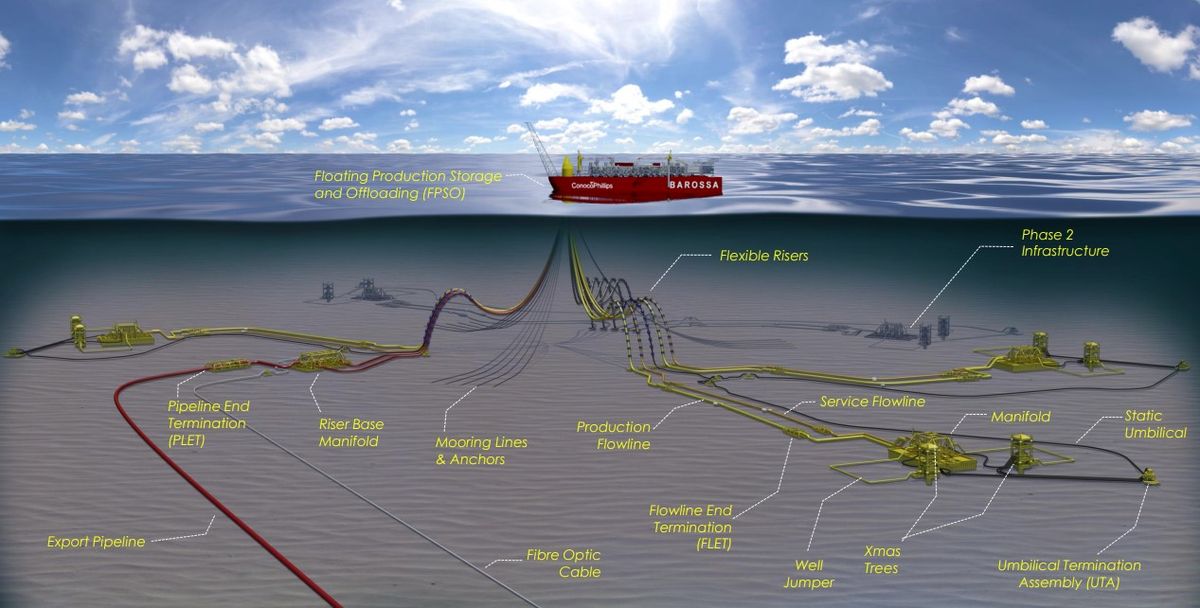 This story was originally published in The West Australian on 14 July 2017 with the headline "Woodside, Conoco eye LNG capacity options." © Peter Milne.
Woodside and ConocoPhillips, operators of Australia's two oldest LNG plants, are gravitating towards the cheapest development options for their Browse and Barossa gas fields, as low-cost Qatar targets the same market window as local producers.
Capacity opening up early next decade in the North West Shelf and Darwin LNG plants offers low-cost production options for upstream projects that need funding in the next few years, while oil prices are low, to be ready for an expected turn in the market mid-next decade.
An LNG oversupply exacerbated by booming US LNG exports had already made the cost and risk of building an LNG plant unattractive. Low-cost LNG giant Qatar added to the woes of Australia's LNG players last week when it announced a planned 23 million tonne-a-year increase in exports.
Wood Mackenzie commercial director of gas and LNG Chris Graham said the high liquids content of Qatar's North Field made producing gas very economical and, at some oil prices, the gas was essentially free.
Plans for the Barossa field, operated and 37.5 per cent owned by ConocoPhillips, to supply gas to Darwin LNG were published on the website of industry regulator NOPSEMA yesterday.
A floating facility about 300km north of Darwin would extract and export valuable condensate and send gas to the existing Bayu-Undan to Darwin pipeline through a 260km long pipeline.
Production of 3.7 million tonnes of LNG a year, enough to fill the Darwin LNG plant, and 1.5 million barrels of condensate a year is targeted to start in 2023 and last for 20 years.
Front-end engineering is expected to start next year, with project sanction in 2019 followed by first gas four to five years after that, the proposal says.
Woodside is on track with its negotiations to find gas to fill its North West Shelf plant where existing supplies start a gradual decline early next decade.
A North West Shelf spokesman said they had sent nonbinding terms to prospective gas owners.
Woodside chief executive Peter Coleman has made clear his preferred option is for gas from the 30.6 per cent Woodside owned Browse field to displace existing 16.7 per cent-owned gas.
Both operators will need to get other LNG plant participants onside, some with interests in other fields, for Barossa and Browse to produce LNG without having to finance an LNG train.