Industrial Relations
UGL pushed spurious safety risks at Chevron's Gorgon to kill industrial action
Maintenance contractor UGL has used a clause designed to ensure safety during a strike at Chevron's Gorgon LNG to portray the industrial action as illegal.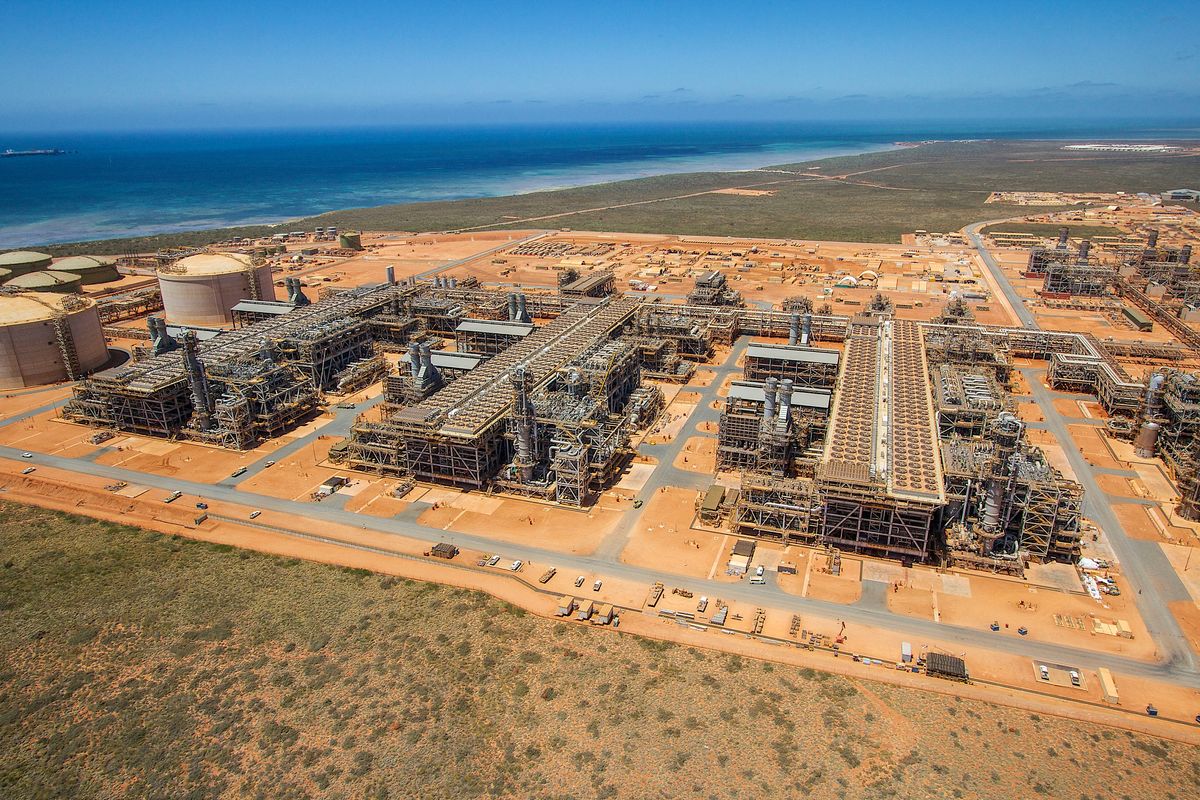 EXCLUSIVE
Maintenance contractor UGL has played a dubious safety card to stop industrial action that threatened the return to full production of Chevron's troubled Gorgon LNG plant.
Internal UGL documents obtained by Boiling Cold reveal a plan to use a union pledge for striking workers to be available for safety-critical repairs to portray the industrial action as illegal.
Members of four unions representing workers on a scheduled maintenance shutdown, or turnaround, of the third Gorgon LNG train planned a 24-hour strike on Saturday, May 8.
Members of the AMWU, ETU and the Offshore Alliance of the AWU and the maritime division of the CFMEU had gone through a protracted process ending in a ballot to achieve the status of a "protected action."
Under Australian law, a strike that is not a protected action is illegal, and unions and individual workers can suffer significant penalties.
There was much at stake for all involved.
Chevron had operated its $US54 billion Gorgon LNG plant at two-thirds capacity for most of the past 12 months while it shut down one train after another to fix thousands of cracks in gas-filled pressure vessels called kettles.
The US major needed the Train 3 turnaround to end as planned in mid-June to stop the $100 million-plus monthly loss of revenue caused by the poorly manufactured kettles.
Chevron's pain gave leverage to the workers after years of stagnant wage growth.
A booming market for workers further strengthened the unions' position in the Pilbara, and COVID-19 blocked the resource giants' usual practice of importing workers to keep pressure off the price of labour.
UGL, a subsidiary of engineering giant CIMIC that is 76 per cent owned by German construction firm Hochtief, was stuck between two competing needs.
In the short term, it had to finish the turnaround to keep Chevron happy. The operator of both the Gorgon and Wheatstone LNG plants awarded UGL a $450 million maintenance contract in 2020, and UGL needed to ensure that kept happening.
However, if UGL agreed to better pay and conditions at Gorgon, it could set a costly precedent for itself and the wider contracting industry.
The idea that higher wages are possible and union action is the way to get them is not an idea that UGL, its competitors, and customers want to take hold in the Pilbara.
UGL needed a plan to keep the work on Gorgon going while not conceding improved conditions.
The UGL documents obtained by Boiling Cold reveal that plan.
Step 1 – safety, safety, everywhere
A condition of the protected action was it would not prevent work in response to urgent safety issues or directions from a regulator.

The unions gave UGL a window to safety to open if required. UGL prepared to drive a truck through it.
The critical aspect of managing a hazardous facility like Gorgon is avoiding major accident events: the industry term for something that could cause multiple fatalities.
The WA safety regulator- the Department of Mines, Industry Regulation and Safety – requires operators to identify so-called safety-critical elements that could increase the chance or severity of an MAE if they fail.
Understandably Chevron classified a vast number of components and systems on Gorgon Train 3 as safety-critical elements.
UGL chose to apply Chevron's assessment of what is critical to safety when the train is processing 600 tonnes of gas an hour to its work on a shut down depressurised train largely empty of hydrocarbons.
According to a second document obtained by Boiling Cold, the result was that UGL classified 914 of the 1421 work orders it had to complete on Train 3 as safety-critical elements.
The experienced engineering contractor conveniently ignored the obvious: the whole point of a shutdown is to make equipment usually critical to safety no longer critical so they could be maintained.
Step 2 – stick to the script
UGL then prepared its supervisors to tell their employees they had to work for safety reasons.
A run sheet marked "Strictly Confidential" gave the UGL supervisors a script to read to workers at a debrief on Friday, May 7, the day before the planned 24-hour stoppage.
The supervisors were to tell the workers UGL understood some of them might take industrial action the next day and "this is their right."
Then the limitations to that right, as UGL saw it, were outlined.
"However, we also have a list of SCE scopes of work and work that the regulator has directed us to do, that must be done even if an eligible employee is otherwise taking industrial action," the run sheet stated.
"You will be told at the end of this debrief if you are required to work on SCE tasks or regulator directed work (i.e. work on kettles)."
UGL's reference to the kettles was a further stretching of what work is required for safety.
n September 2020 DMIRS told Chevron it could keep operating with potentially cracked kettles, but it must fix them by April 2021 (a deadline that has been missed).
So, kettles that the safety regular judged could be operated for many months before being repaired, now, according to UGL, had to be attended to immediately despite being safely shut down.
UGL also told the workers they could not stay at their accommodation during the strike but instead must go to the site and stay in the crib room to work on any "unforeseeable health or safety" risks.
Boiling Cold understands the accommodation is about five minutes from the work site by bus, so the workers were accessible if required to address an emergency.
Step 3 – get on the bus Gus
The UGL supervisors also had a script for the morning of the strike.
Worker's who would not get on the bus from the accommodation block to the worksite were to be told, "if you refuse to do this, you will be taking unprotected action," and then asked, "are you refusing to do this?"
There was another procedure for the supervisors to follow when the workers arrived at the worksite to sign on.

Even though the turnaround scope had hundreds of work orders that UGL had not designated as safety-critical, all workers taking protected action would selectively be directed to work UGL claimed was not covered by the protected action.
The Fair Work Commission can impose a penalty up to $13,320 on a worker taking unprotected action. An employee being repetitively told by their supervisor they are being exposed to such penalties is likely to feel highly stressed.
UGL had a plan, and its supervisors delivered the scripts.
The contractor had just one problem – no one got on the bus. They posed for a photo instead.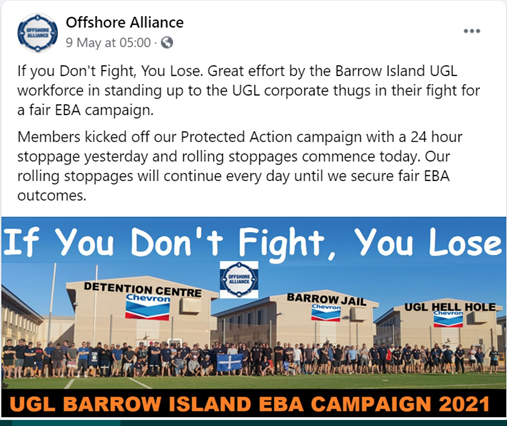 No work was done for 24 hours. After that, the workers returned but had scheduled two-hour stoppages within each shift.
Plan B – bring in the lawyers
On Tuesday, May 11, three days after the one-day stoppage, UGL made an application to the Federal Court.
The contractor wanted a declaration that the unions were organising unprotected actions, damages for the effects on its relationships with Chevron and its employees, and further penalties beyond the damages.
Two days later, the Federal Court ordered the unions to pin to the top of their Facebook sites a note that the protected action had ended.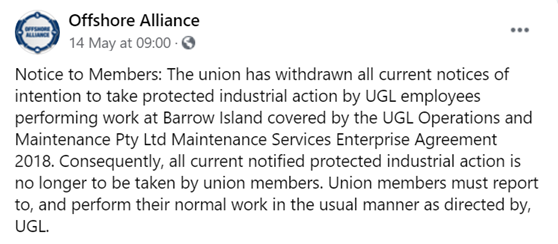 The court order expires on Thursday, May 20 when the parties were due to reappear in the Federal Court. Boiling Cold understands the next court appearance is now scheduled for August and the unions are developing alternative strategies to allow protected actions.
UGL owner CIMIC declined to respond to Boiling Cold's questions.
AWU WA branch secretary Brad Gandy said the Offshore Alliance does not concede the workers took any unprotected industrial action.
---
Update: May 20 12:00 PM: Court hearing deferred to August.
---
Main image: Chevrons Gorgon LNG plant on Barrow Island. Source: Chevron Australia Pty Ltd.
---