=== from the archive ===
Key contractor abandons Inpex's Ichthys LNG plant build
A second key contractor has walked away from Inpex's $US37B Ichthys LNG project, taking 800 workers, over a payment dispute.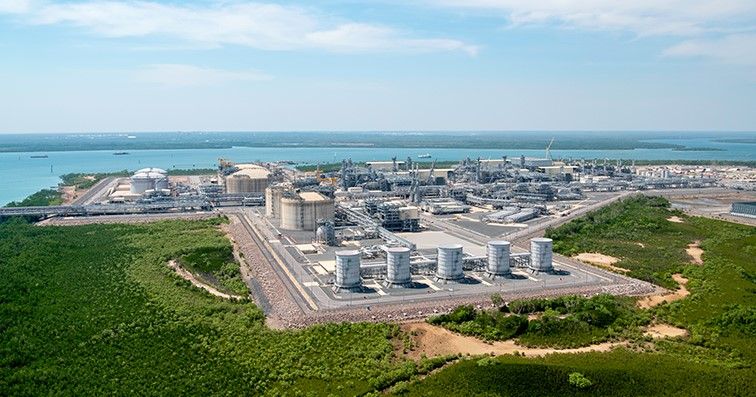 This story was originally published in The West Australian on 16 March 2017 with the headline "Ichthys contractor walks away." © Peter Milne.
A second key contractor has walked away from the Inpex-led $US37 billion Ichthys LNG project, taking 800 workers over a payment dispute and adding to the woes of a venture targeting first gas by September.
Laing O'Rourke yesterday demobilised the workers who had built 91 per cent of four LNG tanks at the Darwin site. The British-owned engineering firm said contract partner Kawasaki Heavy Industries had not made payments for several months.
Project director John Bramley, of head contractor JKC Australia LNG, said it was working with the two companies to restart work on the tanks.
The withdrawal follows similar action on the Ichthys power plant seven weeks ago when a joint venture including UGL withdrew 300 workers from the site, leaving that facility 89 per cent complete. Mr Bramley said work had resumed on the power plant, with JKC acting as the main contractor.
JKC is also close to awarding a contract for additional painting and insulation of the plant's pipework. WestBusiness understands faulty insulation on its overseas-built modules resulted in waterlogged insulation and peeling paint. The remedial work may cost up to $2 billion and take 18 months.
The floating central processing facility under construction in South Korea, the Ichthys Explorer, is understood to have had problems with over 1000 pipe connectors during pressure testing.
An Inpex spokeswoman said a minor issue with some pipe connectors had been identified during commissioning.
The completed Ichthys Explorer and floating storage vessel, the Ichthys Venturer, would set sail when commissioning was complete and the weather suitable, she said.
An Inpex schedule, lodged with Australia's offshore oil and gas regulator, indicated gas would arrive in Darwin six months after the first vessel arrived on site.
Despite the need to also commission the onshore plant once gas arrived, the spokeswoman said production was scheduled to start by the end of September.