Carbon capture and storage
Chevron faces little grief from Gorgon LNG's 7 million tonnes emissions miss
Gorgon LNG has emitted 7 million tonnes of climate-warming CO2 more than permitted but Chevron is unlikely to suffer at the hands of lax Australian governments.
EXCLUSIVE ANALYSIS
Chevron's Gorgon LNG project has pumped more than seven million tonnes of greenhouse gases into the atmosphere that should be buried underground, but there may be few if any repercussions due to lax State and Federal regulation.
The $US54 billion project off the WA coast was to be a showpiece for carbon storage, but no CO2 was stored until August 2019, more than three years after the first LNG cargo sailed to Japan.
Chevron was only allowed to build Gorgon on environmentally sensitive Barrow Island because it was the ideal place to store the 4.2 million tonnes a year of CO2 contained in gas that would flow from the Gorgon reservoir.
Gorgon has the third-largest carbon storage project in the world, according to the Global CCS Institute.
It is the biggest CCS project dedicated to CO2 storage, with 14 of the 19 CCS facilities in operation primarily used to inject CO2 underground to boost oil production, not to limit climate change.
Boiling Cold has assembled the full picture of Gorgon's greenhouse gas performance from a detailed analysis of Chevron's reporting to various State and Federal authorities over several years.
Gorgon emitted almost 34 million tonnes of greenhouse gases in the five years to June 2020 from the reservoir CO2 that was vented instead of buried, as well as gas combusted to power the plant and excess gas burnt in a flare.
Only the CO2 in the gas flowing from the reservoirs is captured and able to be injected underground.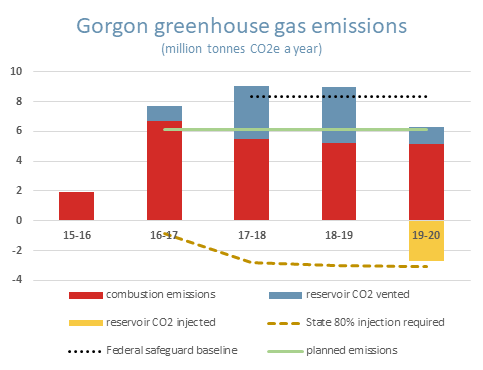 In those five years, Chevron and its partners Shell and ExxonMobil have produced carbon emissions equivalent to almost 10 years of operation of WA's largest coal-fired power station, Muja in Collie.
Gorgon started badly, emitting almost two million tonnes of greenhouse gases in 2015-2016 when only a handful of LNG cargoes were shipped.
Constant stopping and starting of the trains due to technical problems meant more than half a million tonnes of fuel was wasted and burnt in a flare in the first 16 months of operation, producing about 1.5 million tonnes of greenhouse gases.
From mid-2017 emissions from combustion have been close to the 5.25 million tonnes a year Chevron forecast in Gorgon's Greenhouse Gas Abatement Program. However, all the CO2 from the Gorgon reservoir continued to be vented for two more years.
In 2018-2019 Gorgon achieved at its nameplate capacity of 15.6 million tonnes of LNG.
Burial of CO2 deep below Barrow Island started in August 2019, and injection capacity ramped up into 2020. The troubled system buried 70 per cent of the reservoir CO2 in 2019-2020, according to the Gorgon Environmental Performance Report.
Chevron forecast total emissions would be 6.1 million tonnes a year. In 2019-2020 Chevron almost achieved this target with emissions of 6.3 million tonnes, albeit with production at 93 per cent of nameplate capacity.
The emission intensity, or tonnes of CO2 emitted for each tonne of LNG produced, has improved since the terrible early performance.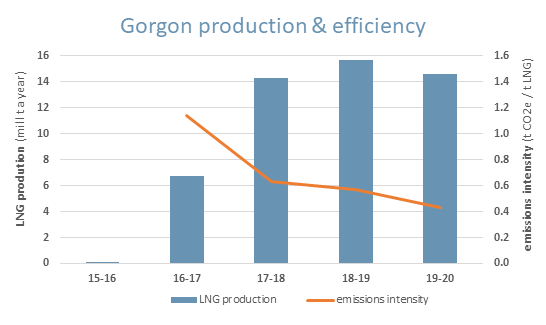 The Australia Institute climate and energy director Richie Merzian said Gorgon was supposed to be the great hope for carbon capture and storage with an ideal location, ample funding and government support.
Apart from its size Gorgon was in some ways, at least in theory, a simple carbon and capture storage project.
There was no additional cost to capture the CO2 in the gas flowing from the reservoir as all LNG plants do this to prevent frozen CO2 damaging the equipment.
The CO2 only had to be transported a short distance from the LNG plant to the injection wells, and Chevron had decades of oil production experience at Barrow Island to build an understanding of its geology.
"We are talking about almost $74 billion invested from the biggest energy companies in the world like Chevron, Shell and ExxonMobil, they couldn't make it work on time, or to scale, or likely within budget," Merzian said.
"How can the Australian public take the Federal Government seriously when it claims CCS is one of the top five technologies available to reduce emissions out of 160 available."
"The Federal Department of Energy admits that it is not banking on any emissions reductions from carbon capture and storage over the next twenty years because it has been 'so variable' to date. You can see why when you look at Gorgon."
A Chevron spokesperson said the CO2 injection system would reduce Gorgon's greenhouse gas emissions by about 40 per cent over the life of the project.
"Since safely starting the system, more than three million tonnes of greenhouse gas emissions have been mitigated," the spokesperson said.
WA requirements kick in late with loopholes
In 2006 then State Environment Minister and now Premier Mark McGowan required Chevron to "implement all practicable means" to inject all the reservoir CO2 underground and achieve at least 80 per cent injection over any five years.
"That reflects our commitment to doing something very significant about greenhouse gases, which is a world issue," McGowan said at the time.
The initial five-year measurement period goes from July 2016 to July 2021. In the first four years, the Gorgon LNG plant extracted 12.2 million tonnes of CO2 from gas from the offshore Gorgon field.
Only 2.7 million tonnes, or 22 per cent, of the reservoir CO2 was buried. This was a shortfall of seven million tonnes from the 80 per cent target.
The final shortfall over five years will depend on whether the injection system achieves more or less than 80 per cent injection in the 12 months to July 2021.
However, not all the CO2 vented to the atmosphere will count against the target.
Production from Gorgon's second train started in October 2016, and the third train started in March 2017, yet Chevron did not receive an operating license for these trains until July 2018.
Before then the two giant trains operated under a works approval usually uses for construction and a short period of commissioning after startup.
The Ministerial Statement of Gorgon's environmental requirements was revised in June 2020 to clarify that vented gas associated with Trains 2 and 3 before the July 2018 license would not count towards the 80 per cent target.
Boiling Cold estimates this legal interpretation could reduce Gorgon's measured CO2 injection shortfall by more than two million tonnes.
If the amount of CO2 injected "falls significantly below the target levels" Chevron has to report to the Government on measures to meet the target, "or, if injection is not considered feasible…measures to otherwise offset."
The requirement has great ambiguity from what "significantly below" could mean.
Also, offsets, such as planting trees, are only considered if injection is not considered feasible. This suggests Chevron could propose that the shortfall be made up by injecting more than 80 per cent of the CO2 in future years. This tactic could be repeated indefinitely, effectively delaying any reckoning.
The possible use of this long-term approach is consistent with the response from Chevron that it "was committed to meeting its regulatory obligations over the more than 40-year life of the Gorgon plant."
Federal Government gives Chevron ample room to pollute
As well as WA's requirement to bury 80 per cent of the CO2 from the reservoir, the Federal Government imposes a limit on total emissions from all large carbon polluters known as the safeguard mechanism baseline.
The baseline for Gorgon was set at 8.34 million tonnes a year, an incredibly generous 37 per cent higher than the 6.1 million tonnes Chevron forecast.
Even for the first year of production when problems were likely, Chevron forecast worst-case emissions of only 6.9 million tonnes, well below the baseline.
Gorgon also received a concession of being measured against a three-year average from July 2017 instead of annually.
This concession was widened further this year with the option for Gorgon and other projects with the three-year concession to add a year "in recognition of the widespread disruption that COVID-19 has caused for business operations."
Merzian said the safeguard mechanism was supposed to cap emissions from large polluting facilities but the current Federal Government "has laid out a red carpet for more and more increases and Gorgon is a great example."
"Chevron owes a debt to the people of WA, to the people of Australia to make good its emissions and do so by investing in WA offsets."
The Chevron spokesperson said managing greenhouse gas emissions was integral to how Chevron executed its business.
"Our path to a lower-carbon future is a shared approach between industry and government to enable complex new technologies to be developed at scale, tested and continually improved," the spokesperson said.
---
Main image: Gorgon LNG plant on Barrow Island. Source: Chevron Australia Pty Ltd.
---